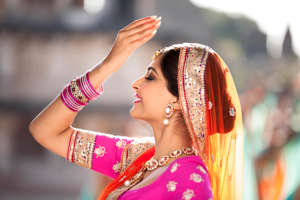 Know Your Star: Sonam Kapoor
Sonam Kapoor is someone who doesn't mind calling a spade a spade. Frank and outspoken, the actress is excited about her biggest release till date. In an exclusive conversation with The Indian Express.com, Sonam Kapoor discusses Salman, the other Khans and romancing Leonardo Di Caprio.
Your signature step from PRDP's title track is trending. Ever imagined it would become a rage?
Every year there is one song of mine which trends. With PRDP it all started with the dubsmash that posted. My Nepali designer, who is in New York and who is a big Sooraj Barjatya fan, told me that he is a big fan of it. People have started doing different versions of the songs. I even saw it being played at a Durga Puja. Many from the industry also danced to it.
What was Salman's reaction to the song and dance?
Salman loved it and he asked Helen aunt and Waheedaji (Rehman) to do it which was so sweet of him.
What was the most challenging part of your role?
Wearing very heavy clothes and jewellery was the most difficult thing. This is the first time I am getting so dressed up. It was quite tough to stay in the attire with full make-up on the entire day.
When did you first fall in love with Salman?
I was 14, when I fell in love with him and his shirtless 'Oh Oh Jaane Jaana'. I know it may sound really weird but I totally loved his character Radhey in Tere Naam. I wanted a guy to be that obsessed about me although I knew that it couldn't happen in real life.
Having known Salman for a long time now, was it awkward romancing him?
I have fortunately known Salman as I had worked with him for 20 days during Saawariya. So, I understood his process. So, the question of having that little initial weirdness about we having holidayed in Goa with our respective families didn't really exist. Yes it sometimes gets strange because the industry is full of people who you meet in our living room and then you have to go and work with them and get romantic onscreen. But at the end of the day it is also Salman Khan.
So, you loved romancing him?
Oh yes! I am his fan girl so you can imagine.
Who next would you like to romance?
Now that I have worked with Salman Khan, I would like to romance Leonardo Di Caprio. You can only romance him onscreen and not offscreen.
What about SRK and Aamir Khan?
I would love to work with SRK. With Aamir, I want to be directed by him. I think he has a great understanding of cinema and will make for an incredible director.
Would you like to have a boyfriend or husband like Salman Khan?
Yes, of course. why not! Whoever can tame Salman Khan will obviously be someone very special.
Link –