Buzz is everything in the age of the internet, and for Anurag Kashyap's much-awaited Bombay Velvet, producers Fox Star and Phantom are leaving no stone unturned. First, there were a bunch of selfies from Ranbir Kapoor, Anushka Sharma and Karan Johar on every social media platform, to introduce their characters. Then, instead of a city by city promotional tour of the film, they decided to have a big media party in Goa, inviting the who's who of entertainment media.
Now, we've got a 5-minute sneak preview of the film. The clip is introduced by a chatty Karan Johar, accompanied by an equally un-chatty Ranbir Kapoor and Anushka Sharma by his side. Johar tells us that the next 5 minutes are exclusively for you — the audience.
So here we go, in to the world of Bombay Velvet. The film is all about a small-time thug named Johnny Balraj (Kapoor) and his struggle to become a somebody in the big bad city of Bombay. He works as a henchman for Khambatta (Johar, making his acting debut), and from the clip we can see that Khambatta is Johnny's ticket to fame.
Johnny's weakness is Rosie Noronha (Sharma), a singer in a nightclub called Bombay Velvet. From the look of things, the only things more over the top than her flamboyant outfits are Rosie's expressions. Her intentions? No one knows. But there's a scene in this preview where we see Johhny holding a gun to her head, telling her to keep quiet. No prizes for guessing this is a violent love story, among other things.
© Provided by Firstpost
It's a perplexing little excerpt because it's tone shifts so swiftly. It's like Kashyap wants you to be on the edge of your seat, but for all the valiant efforts to up the ante, we're not quite there yet.
The clip opens with some mellow jazz and Rosie singing. She's mildly heckled by a man in the crowd. Meanwhile, in a dressing room (presumably in the Bombay Velvet), Johnny and his wingman are seen arguing. We find out that the club has been 'given' to Johnny and his aide to manage. He tells Johnny, "Khambatta jab bhi chahe tujhe yahaan se utha ke phikwa sakta hai (Khambatta can throw you out of here whenever he wants)."
Then, a waiter-esque gent pops in to tell Johnny there's trouble outside and there is indeed trouble, but the sort that Johnny causes. He beats Rosie's heckler to pulp and goes on to shoot the man, after waving the gun at Rosie too. A bloodied-Johnny is seen in Khambatta's office afterwards. Khambatta ominously tells him, "Johnny, Rosie ka zinda rehna, humaare liye theek nahi hai (Johnny, it's not good for us is Rosie is kept alive)."
Is this preview too much too soon? There's certainly a lot happening – too many faces, too many leads, too many "taaliyan!" dialogues, and also too many questions.Where is this headed? Will Khambatta be the reason behind Johnny's fall or Rosie? What will happen to Rosie and Johnny? Is Johnny insane to be randomly killing people in the middle of a street, with two witnesses? The menacing violence and darkness that Kashyap is known for is in abundance in this clip, but somehow, it doesn't end up to feel intriguing. Perhaps it's that we've come to expect this quality in Kashyap's films and so there's not much by way of an element of surprise.
What definitely works is the intensity in all the actors, particularly Kapoor and Johar. The music is also a winner: it's ambient and evocative of the time, while the cheerful lilt of the score contrasts sharply with the darkness of the action unfolding before us. It's also shot sumptuously, with warm colours and dark shadows that ooze with gold-tinted nostalgia. The production and art direction definitely looks grand, but there's a sense of overkill too. It's as though every possible element that points towards vintage Bombay is being thrown at us. Big hair and shiny clothes? Check. Jazz music? Check. Men in suits and hats? Check. Bouts of over-acting? Check.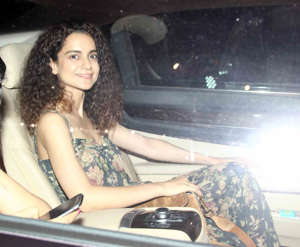 Special screening of Bombay Velvet
Let's hope the film feels more nuanced and less laboured than this clip. In the meanwhile, tap your feet to the songs in Bombay Velvet's soundtrack or replay the preview to see what more clues you can pick out from it.
Bombay Velvet releases on May 15, 2015.
Recommended Read: Ranbir, Anushka's 'Bombay Velvet' gets a thumbs up from B-Town
Visit link:
'Bombay Velvet' preview: Watch Ranbir and Anuskha's violent love story