© Provided by Firstpost
If it is a bio-pic, it's in trouble. Or at least that's what latest trends seem to suggest. Just when Anurag Basu had decided to shelve his long-in-the-pipeline bio-pic on Kishore Kumar, monstrous murmurs of dissent came from the descendants of Peshwar Bajirao against Sanjay Leela Bhansali's Bajirao Mastani.
Legal notices and gagging orders are being tossed around like confetti at a rowdy Christmas party.
Speaking of which, this Christmas promises to be turbulent for my dear friend Sanjay Bhansali. My advice to him would be to stay very calm and quiet. Let them say what they like. At the end of the back-and-forth history and fiction, Bhansali's film is a film, not a documentary on the warrior-king.
Bhansali has been suffering attacks from self-appointed purists since the time he made Devdas. They said, 'This is not the Devdas Saratchandra wrote; how dare you bring Paro and Chandramukhi together for a dance when in the original text they don't even meet?"
Taking a risk is what makes a movie adaptation so desirable. Dear readers of Saratchandra and Maratha history books, a movie is not meant to be a chapter-wise, faithful, page-by-page visual adaptation. It is meant to push the envelope and tease the aesthetics. Deepa Mehta made the cardinal error of doing a literal screen translation of Salman Rushdie's book Midnight's Children from print to celluloid. It was a disaster.
Although she's close friends with Salman Rushdie, Mira Nair never touched Midnight's Children. She knew it was not a film-able novel.
To source film-able material and then take it to an unexpected summit of creativity requires vision. And that, Sanjay Bhansali has in abundance. Why not give his film a chance before pouncing on it? How do its opponents know that it's done disservice to the great Maratha warrior without seeing the film? Because Bajirao and his wife are singing and dancing? Why is it considered undignified for royalty to dance when singing and dancing has always been an acceptable form of self expression in all art?
Strangely protesters are known to jump in weeks before a film's release. They are also known to protest without knowing what they are protesting about. Protest is a thriving industry in our country.
Be warned. If this trend of kin jumping in to 'protect' the subject of real-life cinema persists, the number of bio-pics will dwindle.
Mary Kom didn't protest when Priyanka Chopra played her. Bajirao and Mastani can't protest even if they want to. But their kin are gearing up to give Sanjay Bhansali's imagination a run for its money.
Do I hear Anurag Basu smirking in relief? He has not only shelved the Kishore Kumar bio-pic he has also terminated plans to make a film on the Bihari mathematician genius Anand Kumar.
In Pics: Hottest screen couples ever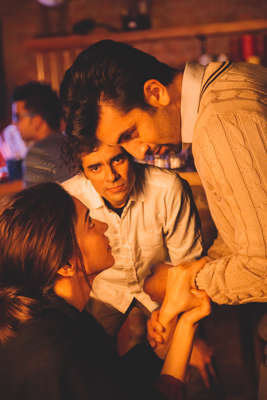 Hottest screen couples ever
Recommended: Everything you want to know about Bajirao Mastani
Link:
Critics of 'Bajirao Mastani' should watch it before calling it 'inaccurate'