© MovieTalkies Deepika And Priyankas Pinga Song Launch Cancelled In The Wake Of Paris Attacks
It was all planned for tonight. The arrangements were well in place, the time was locked, the red carpet was rolled out and the countdown had begun. However, after a few hours of some thinking, the team of 'Bajirao Mastani' felt that it would be inappropriate to have a gala evening out for "Pinga" launch, what with the world mourning the terrorist attack in Paris.
"It would be way too insensitive to party around when the mood if so gloomy all over. The ghastly attack in Paris needs to be condemned. In the middle of this all, to have a launch event would be just so wrong. Bhansali and officials at Eros deliberated over this and it was unanimously agreed by one and all that the song launch of "Pinga" could wait. Least of all, it couldn't have been held this evening. Period," informs our source.
Though quite a few had already geared up to attend the event, what with media too expected to be in full attendance, a press release from Eros International announced its aborting.
It read: "In the wake of the Paris attacks that took place early this morning, the team of 'Bajirao Mastani' will be calling off the "Pinga" song launch event that was scheduled to take place this evening. Sanjay Leela Bhansali, Eros International and the entire team of 'Bajirao Mastani' are deeply saddened by the tragedy. The teams' sincerest love and prayers to all those affected."
Now that's a noble decision indeed, considering the fact that the social media too has been abuzz since morning with the criticism of the terrorist attack.
Meanwhile, Priyanka Chopra has already tweeted: "So disturbed by what has happened in Paris. What is the world coming to.. What is the point of the violence.. #PrayForParis .My heart hurts"
Though the formal song launch has been cancelled, "Pinga" would now see a soft launch online on Monday.
Not to miss: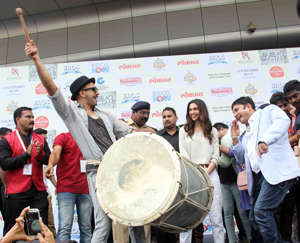 Launch of 'Bajirao Mastani' song Gajanana

View this article:
Deepika and Priyanka's 'Pinga' song launch cancelled in the wake of Paris attacks