The reports of Sunny Leone slapping a reporter for asking the former porn star a lewd question are false, says Leone's husband and manager Daniel Weber.
It was previously reported in Mid Day that the 'Mastizaade' star got into an altercation with a TV reporter who asked her "You were a porn star earlier, now you are a film star. So how much do you charge now?"
© Provided by Hindustan Times
Sunny Leone's husband Daniel Weber offered the following statement to the daily: "Sunny has given an apt reply to the reporter so we are not filing any police complaint. The organisers were also college kids so we do not want their careers to be damaged. But henceforth, Sunny will think a thousand times before coming to Gujarat."
Recommended: Here's why Sunny Leone slapped a reporter in Gujarat
However, when Weber was contacted by Huffington Post India, he offered a different statement. "That story is complete and utter nonsense," he said. "We've called up Mid-Day about it, and they've told us they're going to issue an apology for publishing a completely false story."
"Nothing happened at all. We went there, we did the event, and we came back. There were no reporters there at all," he said, calling the claims "completely made up".
Weber denied another story about a drunk man bursting into Sunny's room. "It's impossible that such a thing could happen. Do you know how much security she travels with? Plus, at every event there are around 50 local bouncers with her all the time. There is no way anybody could get into her room."
Watch: Sunny Leone like you have never seen before
Priyanka Chopra In HOT Swimsuit Photoshoot

Priyanka Chopra recently shot for a leading foreign magazine in which the actress is seen wearing a hot swimsuit. Check out the video to know more.To watch more videos log on to http://www.lehren.com

Lehren

Preity Zintas HOLI Party Pictures With Hubby Gene Goodenough

Preity Zinta recently posted a picture of hubby Gene Goodenough celebrating festival of Holi. Check out the video to know more.To watch more videos log on to http://www.lehren.com

Lehren

Has Big B's grand daughter Navya Naveli found love?

Big Bs grand-daughter Navya Nanda is seen sharing some cozy moments with her friends in one of the pictures we managed to get. Take a look at the video.

Lehren
In Pics: Kingfisher Calendar Girls turned actresses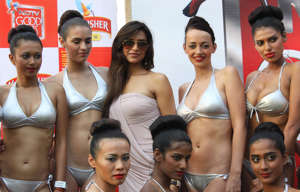 Kingfisher Calendar Girls turned actresses
Read the article –