Social media is a slippery slope. You can never be sure of what is funny and what could be construed as offensive. However, we can all agree on one thing. Everybody loves to hate Kamaal R Khan's presence on Twitter, and his latest controversy involves none other than Rishi Kapoor.
It all began with a parody account of KRK replying to a tweet by Shah Rukh Khan.
.Hey @iamsrk I think @karanjohar SHOOT* is going well:-) if u need to get ur shit cleaned contact my son @kamaalrkhanpic.twitter.com/Pi5AdytQ41

– Daddy of Kamaal KRK (@FATHERofKRK) September 23, 2015
This is when Rishi Kapoor decided to intervene with his two cents about everybody's favorite KRK:
This man is a failure in life. He tweets all garbage as he is a failed,flop actor. Avoid him, he is a fundamentalist https://t.co/HZVMweI0JQ

– rishi kapoor (@chintskap) September 24, 2015
His tweet lead to a series of inappropriate tweets by KRK (they were later deleted):
© Provided by Firstpost
It doesn't stop here: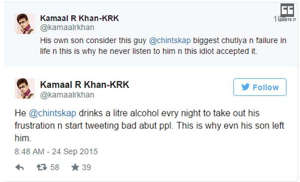 © Twitter
Rishi Kapoor then reported these tweets and KRK was forced to delete them:
Reporting this to the Twitter officials for foul language https://t.co/6sfUVgaiw7

– rishi kapoor (@chintskap) September 24, 2015
You messed with the wrong Kapoor, KRK.
You may also like
Things you should know about Elli Avram
Continued here:
Don't mess with Rishi Kapoor: KRK's tweets blocked from Twitter