© magnamags
When you are a member of a diverse film fraternity like Bollywood, differences of opinion are bound to arise. An unpleasant showdown between a director and an actor several years ago, grabbed eyeballs followed by a cold war.
Yes, we are talking about choreographer turned director Farah Khan and Akshay Kumar. Four years ago, when Farah's husband Shirish Kunder casted the 'Khiladi' in his film Joker, Akshay was not very pleased with the final product. Akshay decided to give a miss to the film promotions which left the directing fuming. Obviously, Farah who would supported her husband, was irked by Akshay's unprofessionalism which led to a spat between the two who promised never to work together again. The next four years, the two couldn't see eye to eye.
But just like this filmy film world where friends become enemies and again friends, nothing is everlasting. As per reports in a leading daily, at Sajid Khan's birthday party where Akshay and Farah came face – to – face, instead of ignoring each other, the two handled the situation rather maturely and greeted each other well followed by a conversation.
Have the two patched up and if so will they collaborate once again?
In Pics: 20 best movie fight scenes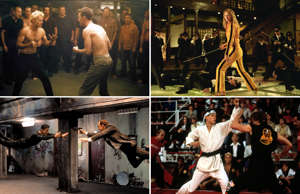 20 best movie fight scenes
Click for more on MSN Entertainment
Continue at source: