© Provided by Desimartini Wonder Women Filming Begins; Gal Gadot Shares First Official Photo
Adding to the movie buffs' building anticipation, Gal Gadot, who will be seen as Diana Prince in 'Wonder Women' has released the first picture of her, announcing that the filming of the superhero flick has begun. The actress gave a sneak peak of the titular character in the photo. "Almost 75 years in the making… #WonderWoman is underway", she captioned the picture.
Almost 75 years in the making… #WonderWoman is underway. pic.twitter.com/jCa0qRzuW8

— Gal Gadot (@GalGadot) November 21, 2015
This isn't the first picture of the leading character that has released so far. Before, Patty Jenkins had signed to helm the project; Zack Snyder was on board as director, who then, during the time of Comic-Con 2014, had shared a picture. That picture showed Gal Gadot, the superhero, standing on a volcanic landscape; ready for the battle.
Great time at #SDCC this year! #WonderWoman#DCTrinityhttp://t.co/iPhukjD0F3pic.twitter.com/JobeSzwfH4

— ZackSnyder (@ZackSnyder) July 26, 2014
The flick is about the characters, which are created by William Moulton Marston and had appeared in the books by DC Entertainment. Besides Gadot, the film also stars Chris Pine as Captain Steve Trevor, Robin Wright, Danny Huston, David Thewlis, Ewen Bremner, Said Taghmaoui, Elena Anaya and Lucy Davis. Wonder Women is scheduled to hit the theatres on June 23, 2017.
In Pics: Celebs who played Marvel characters in the last two decades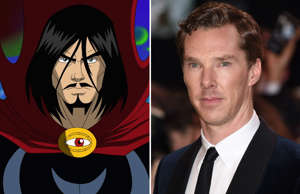 Celebs who played Marvel characters in the last two decades
You might also like:
The greatest superhero movies of all time
Things you should know about Quantico
More: