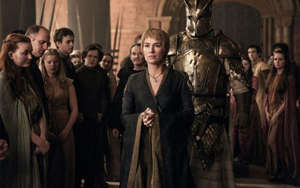 © Provided by The Telegraph Here's what the critics are saying about the eighth episode of Game of Thrones Season 6, No One:
Up on this week's Game of Thrones: Build-ups to fights that we don't get to see, a Hound who is funnier and more chill than he was before he 'died', an emotional reunion, an angry reunion and one of the most whistle-worthy scene exits in the series history (ranking only second to 'F*** the King'). Read the complete episode review here.
Were you all paying attention? Let's hope so because it was one of those "thinky" hours on Game of Thrones, where the violence and b***s take a back seat (sort of) to character development and flowery dialogue. Arya's never-ending story in Braavos lurched to a vaguely satisfying conclusion (I did say vaguely). We also had a peek into Jaime Lannister's soul and discovered it was not quite the howling void previously billed. Some other stuff happened as well, though at time of writing we are too busy suffering slow-motion flashbacks to the Mountain ripping that chap's spinal cord from his jaw to reflect upon the rest of the episode too deeply. Thank you Game of Thrones for simultaneously filling us with disgust and deepening our understanding of basic anatomy. Read the complete episode review here.
"No One" — in ways big and small — is devoted to the things the characters on "Game of Thrones" do for love of house, of honor and of individual people. It's a reminder that in a feudal society, the cost of following your passions may be felt across whole nations. But it's also a testament to the moments of relief that can come from the fact that even in wartime, people seek connection and levity. Read the complete episode review here.
View original article –