© MovieTalkies Anurag Kashyap Feels Karan Johar Is Sexier Than Ranbir Kapoor
Ranbir Kapoor might be considered one of the sexiest stars in Bollywood today, but according to filmmaker Anurag Kashyap, Karan Johar is sexier than Ranbir!
During the launch of the second trailer of upcoming film Bombay Velvet, Anurag took to the stage to invite the cast members of the film and proceeded to announce, "I would like to invite on stage the sexiest man in Bandra- Karan Johar!" Needless to say, the media-persons gathered for the event cheered loudly and even as KJo walked onto the stage, Kashyap said, "And now please welcome the second sexiest man in Bandra-Ranbir Kapoor!"
Anurag Kashyap's Bombay Velvet will have Kapoor play the role of an ambitious prize-fighter named Johnny Balraj whereas Johar will play the sinister businessman Kaizad Khambatta.
The film, which also stars Anushka Sharma, Kay Kay Menon and others, is slated to release on May 15.
Photos: Stars at Bombay Velvet Trailer Launch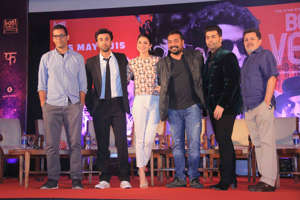 Stars at Bombay Velvet trailer launch
More: