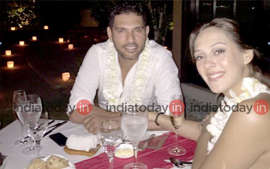 © India Today
Yuvraj Singh got engaged to Hazel Keech in Bali, Indonesia, last evening (November 11). The cricketer's engagement to the Bollywood actor comes close on the heels of his colleague Harbhajan Singh's wedding to Geeta Basra.
Yuvraj and Hazel exchanged rings in a private ceremony on Diwali, making the festival of lights even more special for their friends and family. While not much is known about the event yet, rumours suggest that the wedding is to take place sometime soon.
Singh had spilled the beans on his soon-to-happen wedding during a Twitter conversation between him and Harbhajan. Peppered by emojis, Harbhajan had written, "you should come in a line and play straight now (sic)," to which, Yuvraj's response was, "yes mr @harbhajan_singhfrom Diwali onwards I'm going to play straight see you Tom night (sic)."
Later, curious fans and followers of the players got to the bottom of the Twitter exchange. Following which, there were reports in the media about Yuvraj and Hazel's engagement later this month. After that, Singh had tweeted,
So now my dear media has decided the venue and month of my marriage can u also tell me the dates so I can get ready well in time ! 😄

— yuvraj singh (@YUVSTRONG12) November 4, 2015
While the date and time were indeed kept well under wraps by both Singh and Keech, like they say, the truth finds a way out eventually. We wish the couple a happy life ahead!

Take a look at Bollywood actresses who have 'dated' cricketers in the gallery below: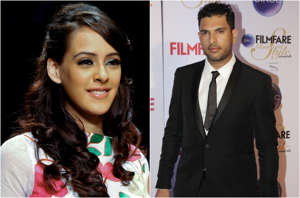 Bollywood actress and cricketer link-ups
View the original here –