© Provided by Firstpost
Bollywood, like love and Lady Justice, is popularly believed to be blind – to the divisions of sex, religion, caste, language and so on. If you are an actor/producer/director/singer who can ensure adequate bums on seat, the Hindi film industry does not give two hoots about where you came from or anything else you do. By extension, this means that Bollywood is brandished as a band aid on standard hot button issues.
Communalism? Pshaw! See how our most successful superstars are Muslim. Xenophobia? Nonsense. See how Bollywood embraced Katrina Kaif. Anti-Pak rhetoric? Fiddlesticks! Don't we adore Fawad Khan, Rahat Fateh Ali Khan and Ali Zafar? And have you forgotten how many views the teaser for Bajrangi Bhaijan has got?
In 2012, someone showed up on the desi entertainment horizon who could, it seemed, make Bollywood look more progressive than ever. Karenjit Kaur Vohra, or Sunny Leone, an internationally celebrated porn star who was formally introduced to the nation through the reality show Bigg Boss in 2011. During the show, her professional history was hidden from fellow inmates in an effort to drum up shock TRPs. Director Mahesh Bhatt, who has always had a knack for profitably thumbing his nose at Indian sexual hypocrisy, offered her a leading role in Jism 2, and a star was born. Or at least conceived.
When the trailer for Jism 2 broke, it looked like the film was directed by a yoga teacher (it wasn't. It was directed by Pooja Bhatt). Leone kept arching her back into a perfect semi-circle, as though superb flexibility somehow leads to character development. When Leone's Isna is asked to help the nation by enlisting herself as a honey trap to lure a dreaded assassin, she replies "Mulk ki madad toh main pehle se kar rahi hoon. Apne kapde utaarke. (I've been helping the country by removing my clothes)
Despite all this, Jism 2 was moderately successful at the box office, possibly because it was clever enough to self-reference Leone's adult film career by working it into the plot. Since then Leone has starred in four Hindi films of which only one has made money. Ragini MMS 2, a horror film which was again smart enough to co-opt Leone's adult film background. Take the concept of meta to new levels, her character in the film was also called Sunny.
Unfortunately for Leone (and us), it doesn't seem that she has much by way of acting talent. If I have learnt anything from going through her filmography, it is that the only thing cinematic about Sunny Leone is her last name, which may or may not be a subtle tribute to Sergio Leone. However, this doesn't mean she shouldn't be trying to make it Bollywood. If Himesh Reshammiya and Jackyy Bhagnani can be stars through self-funded vanity vehicles, Leone has every right to do the same.
When she was launched, there was a hint of promise in the air. You could tell from her interviews that having been a porn star was not something Leone was looking to shove under the carpet. She spoke frankly about her journey. In an interview to India Today in 2012, she said:
"I believe I lead my life just the way I want to. I am free to do what I want without any restrictions. I informed my parents after I won the Penthouse cover-of-the-year and $100,000. It was impossible to keep it a secret. How would they react? Obviously there was a confrontation between us. They were upset at first. Eventually they came to terms with the fact that it is what I've chosen to do with my life. With time they came to know I'm still their daughter, still the same person."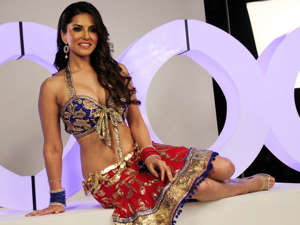 Know Your Star: Sunny Leone
The fact that only Jism 2 and Ragini MMS 2 have been hits suggests Leone can't make a clean break from her previous career in Bollywood. Not that she's made much of an effort to do any such thing. And really, why should she? She wasn't doing anything illegal and much of our fascination with her comes from her storied past. It doesn't hurt that she is gorgeous and seems to have been built using the blueprint of a videogame nerd's fantasy woman.
However, in the last three years, Leone has started parroting lines whose subtext is to beg everyone to indulge in collective amnesia and forget about her ever having worked in the adult film industry. While promoting Ek Paheli Leela this year, Sunny told The Times of India:
"I can't change people's perception, unfortunately, because I can't erase the internet. But I hope that as I meet each new person, I change that person's perception and how they see me as a person, a brand and an actress. I still don't believe that I can do that on my own. It's actually the media that can do it. Because when they stop putting that tag right in front of my name, that's when the public will forget about it as well. So as soon as the media deletes those two words, then my fans will also delete it from their mind."
Before you make clucking noises about how sad it is that she's apologetic about something she doesn't need to be, consider the situation in which Leone finds herself. When she started looking for a place to stay in Mumbai, Leone found her background made prospective landlords retreat. Ultimately, the person who came to Leone and her husband's rescue was Celina Jaitly (though that relationship has recently turned sour because Jaitly claims Leone has left her penthouse in shambles). In May, a fringe right-wing group called The Hindu Janajagruti Samiti (HJS) demanded her deportation for vulgarity on her website and insulting the dignity of women. An FIR was lodged and Leone gave this statement to the police:
"The objectionable video clips circulating here belong to when I was working in the adult film industry in the US. I have distanced myself from any such roles after becoming a part of the Indian film fraternity. I feel it would be improper to haunt me with the past when I am trying to move ahead in life."
This is what being part of Indian mainstream has done to Sunny Leone. An empowered woman, who chose to be part of the adult film industry and who memorable shaved off her pubic hair as part of the 'No More Bush' campaign in 2004 to get George W Bush out of office, has now been reduced to apologising for her past.
There's more. Prior to the release of Ek Paheli Leela, Leone also trekked to Siddhivinayak Temple to pray that the film was a hit. It wasn't. But the greater tragedy, perhaps, is that we have successfully thrown a ghungat on her and forced her to cover up.
The taming of the porn star is now complete.
Original link:
Here's how Bollywood forced Sunny to be apologetic of her past