Diwali is that time of the year when most of Bollywood is on a break to celebrate the festival of lights with their near and dear ones. We bring to you the low-down on who throws the best parties in tinselville
Aamir
© Provided by Hindustan Times
The perfectionist that Aamir Khan is, he ensures that his parties too are nothing less than perfect. Aamir and wife Kiran host an annual Diwali bash at their Bandra residence. However, as compared to the others, the scale of the party is much smaller, as Aamir makes sure it is a close-knit affair. He ­prefers to serve his guests Mughlai food and biryani, a staple at his residence. His Diwali parties are also famous for all-night card sessions. Ranbir Kapoor, Salman Khan, Ayan Mukerji, Karan Johar, Rajkumar Hirani, Rakeysh Omprakash Mehra, Ashutosh Gowariker, Aamir's nephew actor Imran Khan and his wife Avantika are regulars at this party.
Shilpa
© Provided by Hindustan Times
The Kundras are known to throw extravagant ­parties. Their Diwali bash is meticulously planned to the last minute by Shilpa. The tradition started when the couple threw a housewarming cum elaborate Diwali bash in 2010 which was a huge hit with the guests. Since then, the ­stylish couple has decided to make it an annual affair. Bipasha Basu, Sanjay and Maanayata Dutt, Salman Khan and others were ­spotted as their guests in the past couple of years.
Bachchans
© Provided by Hindustan Times
When it comes to celebrating in style, no one in Bolywood does it better than Amitabh Bachchan and family. Every year, the annual Diwali bash held at their bungalow, Jalsa, is one of the most awaited. Right from the décor to the menu, everything is carefully looked into by Jaya Bachchan. The bash in the past has seen the likes of Shah Rukh Khan, Aamir Khan, the Roshans, Deepika Padukone, Kangana Ranaut, Sonam Kapoor and filmmakers Ashutosh Gowariker, Ramesh Sippy, etc. Sachin Tendulkar too is a regular.
Hrithik
© Provided by Hindustan Times
The newest entrant to join the Diwali bash club is actor Hrithik Roshan. Though Hrithik's dad Rakesh Roshan usually celebrates Diwali with his best friends Prem Chopra, Jeetendra and Rishi Kapoor Hrithik threw the first bash of the season on Friday night. From Alia Bhatt to Bipasha Basu to Saif Ali Khan to Jacqueline Fernandes, the younger lot of B-town was present in full force.
Ëkta
© Provided by Hindustan Times
Ekta Kapoor's Diwali parties are all about good food, good fun and great card games. Bollywood's card party lovers assemble together for an all night long gambling session. Ekta's Diwali party starts around midnight and goes on till the wee hours. The stakes are very high and guests end up winning or losing lakhs. Guests include Emraan Hashmi, Shraddha Kapoor, Varun Dhawan, Shilpa Shetty, Arbaaz Khan etc.
Akshay-Twinkle
© Provided by Hindustan Times
Akshay and wife are known for their high-profile card parties around Diwali. This year too, invites have been sent out to their friends from the industry for their annual bash. Interestingly, Akki is known to be quite a player when it comes to card games. Sources reveal that he is such an expert in the game that he almost always ends up winning big bucks.
Take a look at what went down during Hrithik Roshan's Diwali party in the gallery below: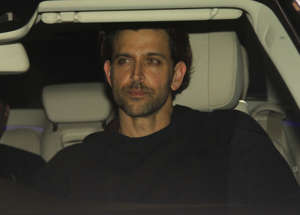 Hrithik Roshan's Diwali party
Recommended: Celebrate the festival of lights with MSN
From: