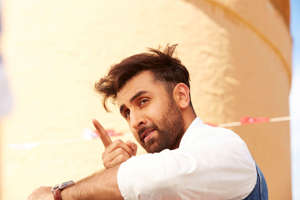 Spotlight: Ranbir Kapoor
Bollywood actor Ranbir Kapoor along with his 'Tamasha' co-star Deepika Padukone were in New Delhi on Monday (November 23) for their film's promotions. This was the pair's second visit in less than 15 days.
Earlier they were in the capital to celebrate Diwali and now the couple took a train ride to Delhi.
Ranbir Kapoor told reporters that he is very romantic in real life. "I am very romantic. After Ghalib it's me. I believe I meet up to his standards and his ideologies of love."
Ranbir, who is working for the second time with director Imtiaz Ali after 'Rockstar', was all praise for his director.
"The thing I really like about Imtiaz is that he is a true friend. He really deserves to be called so because he completes every value of a friend," said Ranbir.
Ranbir Kapoor also mentioned that his favourite song from 'Tamasha' is 'Safarnama', which is yet to release.
Ranbir's co-star Deepika Padukone, who was a model before making her debut in films, said that it has not been easy for her to adapt to Bollywood.
"I am here as I was very passionate about the craft and wanted to be the best that I can be," she said.
Deepika added that she doesn't mind criticism and accepting her mistakes and in fact leaning from all the films that she has done till now. She said she has reached to a stage where she really enjoys her craft and loves being in front of the camera.
On this, her director Imtiaz added: "I feel that she is a completely passionate person and unusually sensitive. Deepika took time to being this out into her performance and now the nation loves her because she has been able to show her true self. Deepika is a very shy person and now she has learnt not to get that shyness into her performance."
"Tamasha is a positive word to me and it a story that one presents to the world about themselves. When a person speaks his or her inner self loud and in an entertaining manner, that is Tamasha for me," said the director discussing on the movie title.
"By the end of the movie audiences should ask themselves whether they have become a Robot and mechanical or they are doing what they want to do in their lives, this is what I am looking forward too," says Imtiaz.
Tamasha is going to release on November 27.
See the original post:
I am a very romantic person, after Ghalib it's me: Ranbir Kapoor