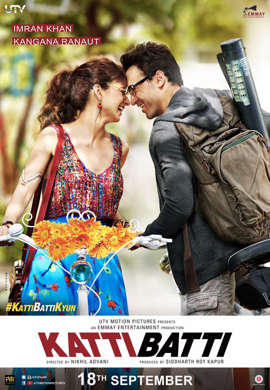 Kangana Ranaut is back with 'Katti Batti' The differential treatment meted out to female actors by Bollywood filmmakers became evident when Kangana Ranaut highlighted how she was looked down upon when she tried to give her inputs while acting in films. From being called an 'irritating bitch' to being shooed away, Kangana was never welcomed to give her inputs while male superstars in the same film would dole out tips with great abandon.
"Being an actress when I started contributing to my films, writing dialogues and screenplays, I thought people would find me useful. I can do a lot more than any other actors. I was shocked to see that it was seen as something which is not accepted no matter how much they are benefitting from it. No matter how much they want us to contribute. When I want to contribute to a film because I have a title role, my contribution is seen as interfering. But when a male actor who is this maverick, larger than life person does the same thing which in turn motivated me to do it I was called a 'bad*** and interfering bitch," said Kangana, who was a part of a session on 'Women In Films' at the ongoing MAMI Film Festival in Mumbai on November 3.
Sharing why she wanted to give her inputs, Kangana Ranuat said, "As a creative person I find it inspirational. I want to do the same thing and achieve the same status in society. And I think being an actress, the attitude is just the same. People think nice women are the silent ones and smart*** is the one who thinks what is good for her."
National award winning actress Kangana Ranaut is currently busy prepping up for her role in Vishal Bharadwaj's directorial 'Rangoon' co-featuring Shahid Kapoor and Saif Ali Khan. She has also been approached by Shekhar Kapur to play an 85 year-old woman in his next directorial.
See original: