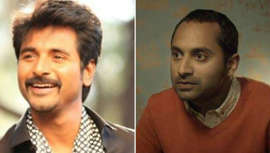 © Hindustan Times Bangalore Days actor Fahadh Faasil is happy he will be sharing screen space with Tamil actor Sivakarthikeyan in his forthcoming debut Tamil film which will roll in a few weeks. He says he is really impressed by the Tamil actor's growth as an actor and as a star.
"When the offer came to me, I didn't pause to think and instantly chose the project for its unique script and characterization. I'm impressed by the growth of Sivakarthikeyan as an actor as well as star. I'm proud to be working with him," Fahadh said in a statement.
Also starring Nayanthara, the film will be directed by Mohan Raja, whose last directorial Thani Oruvan was one of the best Tamil film in recent times.
"I am a voracious fan of Tamil films and Thani Oruvan was something that fascinated me to the core in recent times. I was much engrossed over the narrative style of Mohan Raja," he said.
The project is being bankrolled by 24 AM Studios.
Link:
Impressed by Sivakarthikeyan's growth as an actor: Fahadh Faasil