© Provided by India Today
It seems like Tollywood has lot of things in store to amaze the nation. After the huge success of SS Rajamouli's Baahubali at the box office, Tollwood is all set to treat its fans with another period drama Rudhramadevi. According to a report published in The New Indian Express, the makers of the much-delayed film have finally locked its release date.
Set to hit the screens on October 9, the much-awaited Telugu film also stars Anushka Shetty. Talking to the daily, the actor said, "People have been patiently waiting for this film for a very long time and we are delighted to announce that the film will finally hit screens this September. The entire cast and crew has worked very hard and the effort can be seen in the film".
Made on a budget of Rs 72 crore, this film is already making heads turn as it will be Tollywood's first 3D film. The film will take you 850 years back into history. Ghunashekar, the director of the film, said, "The story depicts the Kakatiya Dynasty and is based on incidents that took place 850 years ago. We have not tampered with history in anyway and you will witness an authentic story without any exaggeration".
The director also added,"This film has not been made for the graphics or the sets, but for the story. It's a story that I read in school in the history books and it is something I always wanted to make. I was inspired by Hollywood films like Gladiator and Braveheart and wanted to make a film like that here."
The historical film also stars Rana Daggubati, Allu Arjun, Nithya Menen and Catherine Tresa. Apart from the talented star cast, the film will also bring Illayaraja to compose the music. It has been reported that Illayaraja will be orchestrating a 125-piece symphony, which will give a live music experience to the audience. The film will be dubbed in Tamil, Malayalam and Hindi.
How well do you know 'Rudhramadevi' star Anushka Shetty? Find out in the gallery below: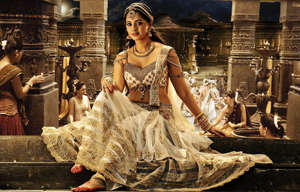 Know Your Star: Anushka Shetty
Original link –