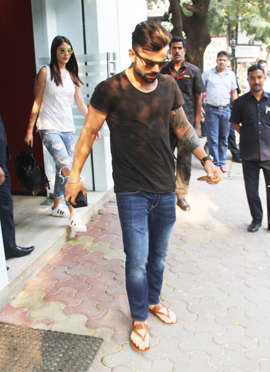 Anushka Sharma-Virat Kohli's lunch date & more
In a rare interview actress Anushka Sharma was seen talking about her relationship with cricketer Virat Kohli.
The actress who has in the past been trolled on social media and been unreasonably held responsible for jinxing Virat Kohli's game opens up on how she deals with people talking about her presence at the stadium.
In an interview with Anupama Chopra for the show Film Companion Anushka reveals, "We both have that sense of normalcy. We both are same people except that I don't have so much aggression as him. Virat is emotionally active. Other than that we both are same people and need same things from life. We are in a relationship that is 'normal'. We both don't want to become pawns. Our lives go on in our ways. It is hard for me, when I stand at the stadium and Virat doesn't do well. I feel 'Oh s***, Have I done something wrong?'. Initially it used to happen like that, but then later on I started directing the thoughts on the positive side. We both are very normal people and come from regular middle class family and without any help from anybody in our respective industries, we have reached where we are today. So there is lot of mutual respect between us."
© Provided by Masala.com She adds, "I tell myself that if I start listening to these people and allow them to decide how I behave, then it is their life and not mine. I can't give the power to them to decide my life. I feel hurt sometimes, I feel insecured and targetted but you have to tell yourself that 'Either you listen to these people and don't go for a cricket match or Do what I feel like'. I mean if I am in a relationship with Virat and he wants me to be there for the match then why the hell am I listening to them? I know that things aren't happening because they are saying."
We admire your grit and resolve Anushka!
Original article: