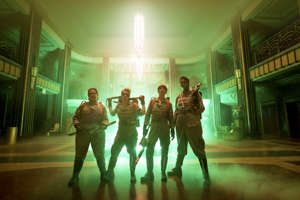 © Sony Pictures Entertainment Inc. Ghostbusters Here's what the critics are saying about Ghostbusters, starring Melissa McCarthy, Kristen Wiig, Kate McKinnon, Leslie Jones and Chris Hemsworth:
The real triumph of this new Ghostbusters is that it doesn't feel like an inversion, or an experiment, or a novelty. It just feels funny. An update or upgrade to the original, not a rebuke to it, or to its fans, although certainly a rebuke to those who believe that being funny is an XY chromosome thing. This is a blockbuster. Read the complete movie reviews here.
Ghostbusters gets in its digs here and there: at one point McCarthy and Wiig's characters pore over online comments and dismiss them as worthless and sad. But mostly, it doesn't play up any girl-power messages, or get particularly preachy about its feminism. It's enough to just put these women in these roles, and let them go to town. Unlike so many of the people attacking this film sight unseen, the film itself doesn't fuss over its stars' gender. It just focuses on humor, surprises, and having a good time. That feels like a justification for existence all on its own. Read the complete movie review here.
It's not the plot that makes this reboot so much fun but the comic chops of the leading ladies – all Saturday Night Live veterans – who merrily bounce gags off one another with McKinnon the standout and Jones, as paranormal eyewitness Patty, also memorable. Read the complete movie review here.
Ghostbusters is neither the great comedy of its age, nor an "Everything you are doing is bad. I want you to know this" disaster. Its mere adequacy may become the most important part of its legacy, especially if it's a hit. Ghostbusters makes the case for the conventionality of a female-fronted blockbuster while also arguing that such a thing can be just as "Eh, it's okay" as any male-fronted one. Read the complete movie review here.
It's understandable that this franchise relaunch would want to remind you of the original, but there's no getting around that this new A-team of ghostbusters are fresh and funny enough to have earned space in the summer comedy firmament. And should it come to further installments, improving on 'Ghostbusters II' wouldn't be that hard. Read the complete movie review here.
NYPD Police Commissioner Steps Down

On Tuesday, New York City police commissioner, Bill Bratton resigned from his position, saying that it was only "with reluctance" that he would step down from the role. While saying that policing was his life's passion, the 68-year-old Bratton told reporters, "I wish I had more time, chronologically, to stay around for three or four years to work on the issues that are going to take that long to straighten out. I don't have that type of time.

Dailymotion

Have You Heard The Latest From Donald Trump

Although it may come as a surprise to voters, Donald Trump believes the election process is rigged. Wait, you've heard that before? As the Trump Train pushes forward, the Republican nominee continues to forge a reoccurring speech which includes celebrating poll numbers and ratings, promoting the country's decline, and promises of a border wall. Trump rants about everything from the "dishonest" media to crying babies.

Dailymotion

Family Wins Huge Settlement in Case Against Terminix

A Delaware family poisoned during a vacation to the Caribbean back in March 2015 will reportedly receive over $87 million from the company Terminix, which was responsible for the pesticide exposure. An earnings report filed last week described an $87 million payout to the Esmond family. The payout comes in addition to the $3 million already paid to the family to cover the insurance deductible.

Dailymotion
Recommended: Read all the latest movie reviews
Continue reading –