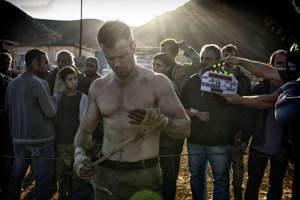 © Universal Pictures Jason Bourne
Here's what the critics are saying about Jason Bourne, starring Matt Damon, Tommy Lee Jones, Alicia Vikander, Vincent Cassel and Julia Stiles:
The Snowden/social media plotline of this film does a bit to make Bourne more relevant. But the ingredients are basically the same. Each souped-up action scene and punch-up has an extra level of digital sophistication: the participants are often wearing earpieces and it is all being watched over by a mission-control team at Langley, Virginia – like the guys at Houston monitoring the progress of an Apollo moon mission. Read the complete movie review here.
Jason Bourne is the worst of the Matt Damon Bourne series – it might even be worse than The Bourne Legacy. But it's almost as if Bourne knows… He knows his best is behind him. He knows he deserves better than this movie, and that makes him want to return to the only life he's ever known, the only life he's understood – a life in which no one is safe, a life spent looking over his shoulder. But before you do that, get some rest Jason. You look tired. Read the complete movie review here.
Once more pitting Matt Damon's memory-challenged, unsmiling killing machine against the omniscient U.S. intelligence network that built him, and sporting the kind of dizzying action that heats up your processors like a furiously charging battery, this fourth entry after a nine-year break for Damon and Greengrass should represent, for those ready and able to separate popcorn mayhem from the grim realities of world headlines, a bruising and exhilarating ride. Read the complete movie review here.
Bourne is numbing in its relentless, repetitive pursuit sequences, some of which add absolutely nothing to the story except wrecked cars and extra minutes. The action setpieces are designed for maximum impact: the pursuit amid a full-scale riot in Athens is particularly beautifully choreographed, and executed on an impressive scale, with a pounding score revs up the adrenaline. But scene after scene brings in the same dynamic, frantic cutting, and constantly shifting angles. Jason Bourne© Provided by The Verge Jason Bourne (Universal Pictures) And the actors don't get enough space to give the film a personality. They're mostly doing their utmost to mask any hint of emotion Read the complete movie review here.
It's a kinetic film, but unfortunately all that motion ends up feeling like going through the motions, and by the Las Vegas chase denouement I'd somewhat lost interest. Read the complete movie review here.
'Mike and Molly' Star Katy Mixon Is All About Body Positivity on 'American Housewife'

The actress explains why working on her new show is the 'biggest gift in the world.'

Dailymotion

Ruby Rose Gets Stung by a Jellyfish and the Wound is Nasty – See the Pics!

Jellyfish: 1, Ruby: 0.

Dailymotion

Constance Zimmer Tears Up at the Thought of Winning an Emmy, Dishes on 'UnREAL' Season Finale

The actress could win her first Emmy this year and she opened up to ET about how much it would mean to her to take home the award.

Dailymotion
Recommended: Read all the latest movie reviews
View post: