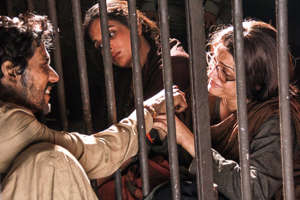 Randeep Hooda and Aishwarya Rai's 'Sarbjit'
Here's what critics are saying about Omung Kumar's 'Sarbjit', starring Aishwarya Rai Bachchan, Randeep Hooda, Richa Chadda and Darshan Kumaar:
When you watch Sarbjit, you must accept it as a given that the makers believe Sarabjit Singh Atwal and his family's version of events, not the Pakistani authorities. The reason why that is okay is because the film is not pretending to be a journalistic exercise telling all sides of the story; it is open about its stance that it is a feature recounting one side of the story. Read the complete movie review here.
The problem with 'Sarbjit' isn't so much the material as the constant emotional hectoring. Dalbir, working desperately to free her brother, spends most of the film shrieking over the bullying background score. As the story winds on, her speeches become more grandiose and simplistic; at one point, she challenges the Taliban, declaring "Hum Hindustaniyon ne peeth dikhana seekha hi nahi hai". Read the complete movie review here.
Applause is due for Aishwarya Rai Bachchan who plays the struggling Dalbir. But, in the same breath, the 42-year-old actor doesn't manage to bring alive the character. Her lip-twisting, chest-thumping and shouting does not help either. Read the complete movie review here.
Sarbjit Singh's tragic story was crying out to be told on the big screen. It has everything in it to serve the cause of an intense human drama. Alas, in director Omung Kumar's hands, it peters out into a rather contrived and unconvincing tale ruined by gratuitous theatricality. Read the complete movie review here.
Lehren
Sarbjit Public Review

Check out the public review of Aishwarya Rai and Randeep Hooda starrer Sarbjit. Take a look at the video. To watch more videos log on to http://www.lehren.com

Lehren

Sikander Kher & Sonam's cousin part ways after engagement?

According to latest buzz of Bollywood that Sikander Kher and Sonam Kapoors cousin Priya Singh decide to part ways.Check out the story. To watch more videos log on to http://www.lehren.com

Lehren

Sarbjit Celeb REVIEW REACTION Aishwarya Rai Bachchan, Randeep Hooda, Richa Chadda

Bollywood's megastar Amitabh Bachchan to the sexy and gorgeous Parineeti Chopra, stars gave in their reviews for Omung Kumar's Sarbjit starring Aishwarya Rai Bachchan. Randeep Hooda and Richa Chadda. Check out their reactions in the video.

Bollywood Now
Recommended: Read all the latest movie reviews
Source: