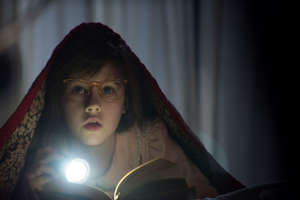 © Walt Disney Studios Motion Pictures Here's what the critics are saying about Steven Spielberg's The BFG, starring Mark Rylance, Ruby Barnhill, Penelope Wilton, Jemaine Clement, Rebecca Hall, Rafe Spall and Bill Hader:
I had a lump in my throat both of the times I viewed the film, as the BFG evolves into something like Sophie's quasi-dad, or quasi-granddad, or older quasi-sibling, or make that younger quasi-sibling. The film calls to mind Oscar Wilde's The Selfish Giant or Bryan Forbes's film Whistle Down the Wind. And so it is the tiniest bit of a letdown when we show up at Buckingham Palace for the wackiest fart-jokes since Blazing Saddles. But Spielberg carries it off with great good humour, and the return to Giant Country re-establishes the film's emotional power and the resounding Spielbergian keynotes of transcendence and acceptance. It's a tremendous film and a monument to Melissa Mathison's gigantic talent. Read the complete movie review here.
The BFG is by no means Spielberg's best work. In fact, it probably won't even make the top ten. But that's not because it's bad, or even mediocre – it's just that over the course of 4 decades and dozens of great films, Steven Spielberg – with his friends cinematographer Janusz Kaminski, editor Michael Kahn and composer John Williams – has spoilt us. Just like Tintin was him making another Indiana Jones (or maybe apologising for Crystal Skull), The BFG is, at least tonally, a throwback to ET. Read the complete movie review here.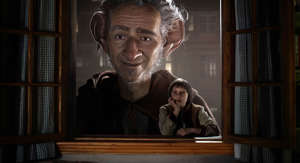 © REX/Shutterstock
The BFG is melancholy about the compromises of adulthood, and the difficulty of choosing one life path at the expense of others. That's a mighty heady direction for a kids' fantasy to take, and the conversation Sophie and her giant have about her future feels like the film's one strange concession to subversiveness and sadness. But mostly, there's a smug contentment to this story that perversely isn't very satisfying. The BFG shows it's possible for a film to feel completely inert, even if it's constantly in motion. Read the complete movie review here.
The BFG is largely about two different souls from completely alternative worlds coming together and making each other feel comfortable with who they are – navigating each other towards potential happy endings. It's a tale similar to a previous Mathison and Spielberg's collaboration – a little-known movie called E.T. the Extra-Terrestrial. Just as that film had heart and loveliness by the bucketload, as does The BFG. Read the complete movie review here.
The voice of Rylance, who won an Oscar this year for his last Spielberg collaboration, Bridge Of Spies, is continually engaging while Barnhill, despite a hint of the stage school to her performance, is a name to watch. Read the complete movie review here.
The BFG: Exclusive Interview With Steven Spielberg, Mark Rylance, Rebecca Hall, Penelope Wilton & Ruby Barnhill

A young girl, the Queen of England and a benevolent giant known as the BFG, set out on an adventure to capture the evil, man-eating giants who have been invading the human world.

My Movies

YouTuber eats world's hottest chili, immediately regrets it

Amusing footage of YouTuber James Ware eating Tesco's new addition to its shelves – world's hottest chili, the Carolina Reaper. The video, filmed yesterday in London, shows James eating the whole chili despite being warned against it. His reaction, while extremely funny, proves that the Carolina Reaper is truly deadly, even for those who can take their spice. The Reaper is being grown and sold for the first time in the UK, but it's not for the faint hearted as it has its own Guinness World Record for being the world's hottest chili. According to reports, it is 1.5 million Scoville units which, rather worryingly, is 400 times hotter than a jalapeno pepper.

Newsflare

Fantastic Beasts and Where to Find Them trailer: Eddie Redmayne in Harry Potter spinoff – video

This footage from the upcoming fantasy in the Harry Potter universe written by JK Rowling was released at Comic Con over the weekend. Directed by David Yates, the film stars Eddie Redmayne as a Hogwarts alumni who arrives in America in 1926 but runs into trouble after magical beasts escape from his briefcase. The film will be released worldwide on 18 November 2016.

The Guardian
Recommended: Read all the latest movie reviews
Link to article –