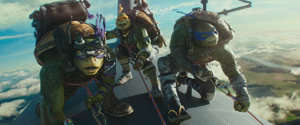 © Lula Carvalho/Paramount Pictures Here's what the critics are saying about Teenage Mutant Ninja Turtles: Out of the Shadows, starring Megan Fox, Stephen Amell, Will Arnett, Brian Tee, Tyler Perry, Brittany Ishibashi and Laura Linney:
The film fares best when it slows down a bit and allows the Turtles' personalities, which are quite engaging, to shine through via their amusing comic banter. Read the complete review here.
The new "Turtles" is a step backward from the passable first installment, taking the overblown mess of that film's final 30 minutes and stretching it out into the entire 112-minute sequel. Read the complete review here.
The film is truly turtle-focused, with a story that offers understandable conflict and entertaining interactions for our heroes in a half-shell. Read the complete review here.
Teenage Mutant Ninja Turtles: Out Of The Shadows – Clip – Casey Jones

After supervillain Shredder escapes custody, he joins forces with mad scientist Baxter Stockman and two dimwitted henchmen, Bebop and Rocksteady, to unleash a diabolical plan to take over the world.

Dailymotion

The Purge: Election Year – Trailer 2

Expanding upon the explosive universe, 'The Purge: Election Year' reveals the next terrifying chapter of 12 hours of anarchy that is sanctioned annually by the New Founders of America.

Dailymotion

Ghostbusters – Trailer 2

Reboot of the Ghostbusters franchise featuring four females as the starring cast.

Dailymotion
Recommended: Read all the latest movie reviews
Read the article:
Movie Reviews: 'Teenage Mutant Ninja Turtles: Out of the Shadows'