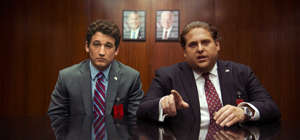 © Courtesy Of Warner Bros. Pictures, HONS / Associated Press Here's what the critics are saying about War Dogs, starring Jonah Hill, Miles Teller, Ana de Armas, J. B. Blanc, and Bradley Cooper:
"War Dogs" seems to want to be everything from "The Social Network" to "The Big Short" and while it flirts with moments of greatness, the script just can't compete with the brains of those other films. Or maybe that's because the audience is getting the story straight from David, whose real-life version has a cameo in the film and is far too valorized to be believable. Read the complete movie review here.
"War Dogs" marks a key turning point for Phillips. After all these years of yocks, it's his first true grown-up movie, and it's a nimble, gripping, and terrific one, with plenty of laughs, only now they're rooted in the reality of fear, and in behavior that's authentically scurrilous. Even during his reign as king jester of the animal house, it was always clear that Phillips was a genuine filmmaker, but maybe it took the withering response to not one but two "Hangover" sequels for him to look in the mirror and say: Time to move on. Moviegoers should be glad he did. For Phillips, "War Dogs" marks the launch of what could turn out be an inspiring second-stage career. The box office should prove solid (if not "Hangover" huge), because he remains, at every moment, a rousing entertainer. Read the complete movie review here.
It's not possible to claim that Efraim and David are charming or even good company, so irresponsible is the former and lacking in character is the latter. But the combination of bluster and maybe even partial insanity in the former and optimistic gullibility in the latter combines with the outrageous situations they bring upon themselves to keep you warily fascinated, if not charmed. Hardly inexperienced at playing belligerent, outrageous and offensive a-holes, Hill offers a definitive account of one here, to which Teller can only play the blander, if useful, second fiddle who has to try, and try again, to stand up to the gruff bully. Maybe in 20 years they can co-star in a Broadway revival of The Odd Couple. Read the complete movie review here.
Read the article: