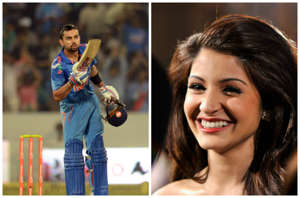 Love story of Anushka Sharma and Virat Kohli
From being hailed as the national "bhabhi" to the "evil temptress", who can be held responsible for a whole team's defeat, Anushka Sharma is in a predicament. And if anybody can really understand what the actress is going through, it's another actress, who has dated and then married one of the most eligible cricketers – Mansoor Ali Khan Pataudi. In an interview to BollywoodHungama.com, Sharmila Tagore defines the beautiful association of sports and cinema, often marred by unwanted attention.
"I can't say my circumstances were exactly the same. Because in those days (when I was dating Pataudi) girlfriends and wives were not allowed to accompany cricketers and watch cricket matches. But I did go to England to watch him, though I couldn't go to watch him in Australia. It's really up to the individual what he or she wants to do. predicament. Look at the crowds! They are so distracting, with their constant clapping, screaming and shouting. But once a player is out there his concentration is absolute," the veteran actress says.
© Provided by Indian Express
Sharmila Tagore, however, gives full credit to cricketers for keeping their cool under pressure. "These are not amateurs we're talking about. They know how to conduct themselves. But I've to say I've been through this kind of pendulum swing in public perception. An actor you are adored one day hated the next. Suddenly they go off you. If you remember when Sachin Tendulkar was not making runs his fans were upset. Then when he began making runs they all came back. Such temporary changes in the public's mood are only expected. One individual can't take on the mob. So one has to just stay calm and wait for the storm to pass. It's not an Indian phenomenon. It happens everywhere. It's the mature versus the immature."
Anushka Sharma was held responsible for Team India's defeat at the hands of Australia in the World Cup semi final match. Sharmila Tagore was also, once, held responsible for Pataudi's non-performance on the field. "One or two occasions it was believed that I was somehow responsible for his poor performance. It is widely believed that if you are an actor or a cricketer from a privileged background then you're pampered spoilt and an attention seeker. So, it was believed that I'd say things like. 'Oh if you're playing tomorrow let's go out today.' As if it was all about me and not the game of cricket. As if I didn't understand the gravity of the game. These are perceptions. One shouldn't allow them to ruin your happiness. If one wants to go watch someone close to oneself play, then one should do so."
But things were different during her time. "There was no social media, no Twitter to condemn you. I think I had to face less hostility. Now you've people threatening to stone one's home. That's very wrong. This is the problem. There is a flip side to every fan. They love you and they hate you. I am not choosing the fans. They are choosing me. One day they say good things about me. The next day they start picking on you for the very things they loved you for. But in the long run it all evens out. Once you enter retirement they only remember good things about you."
But the talented actress says it depends upon the individual how to take the brickbats coming his/her way. "Anyone in the public eye has to face bricks and roses. It's up to the individual to decide whether a loved one's presence distracts or comforts him," she signs off.
Related
Twitterati targets Anushka over Virat's poor show in WC semis
'Stoning' Anushka: The gross sexism of the ugly Indian cricket fan
View the original here –