All has not been well in the love paradise of former couple Ranbir Kapoor and Katrina Kaif. The duo, who recently split, are headed their separate ways already. However, the duo has re-united, but this time it is for their upcoming movie Jagga Jasoos. The film's final schedule has begun.
© Provided by Screen In the picture we can see Ranbir Kapoor and Katrina Kaif sitting opposite each other. They seem to be in a conversation of which Ranbir's friend Ayan Mukherjee is also a part.
The first look of the film was released long back and there were speculations if the film will even be made or not after the couple split, but we know it for sure now that the movie will hit screens soon.
Katrina Kaif has already started looking for a house, for which Salman Khan's manager has been helping her. Ranbir has also moved out of their love nest.
After all the hurdles that the film has faced so far, Anurag Basu directorial Jagga Jasoos will hit the screens on June 3.
Rewind: The love story of Katrina Kaif and Ranbir Kapoor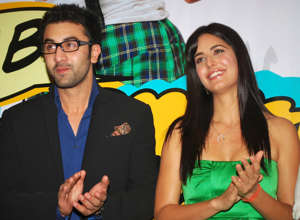 Rewind: The love story of Katrina Kaif and Ranbir Kapoor
This article: