© MovieTalkies When Aamir Khan Turned Santa Claus For Azad
Aamir Khan, who is a doting dad to his son Azad, decided to put his acting skills to use in order to make his son's Christmas special this year by dressing up as Santa Claus, much to the delight of Azad and his little friends.
Taking to his Facebook page, Aamir uploaded a few pics of his Santa garb and wrote, "Just finished playing Santa at home for all the kids at our annual Christmas party. Merry Christmas everyone. Love. a." In the photos, Aamir is seen distributing gifts to Azad and his friends, while the little ones hug their adorable Santa with much gusto.
Aamir will be next seen playing wrestler Mahavir Singh Phogat in 'Dangal'.
In Pics: Know Your Star- Aamir Khan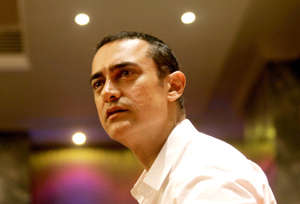 Spotlight: Aamir Khan
Recommended: Everything you want to know about Aamir Khan
Read original article: