© India Today
Ever since the news of Pulkit Samrat and his wife Shweta Rohira being separated started doing the rounds, speculations are rife that actor Yami Gautam might be the reason behind their marriage falling apart. Buzz has it that Pulkit and Yami started dating each other on the sets of their yet-to-be-released film Sanam Re. And it was Pulkit's proximity to Yami which turned out to be the last straw in Pulkit-Shweta's relationship. However, Shweta has rubbished the rumours and said that Yami was never the reason behind their separation.
In an interview to DNA, she has revealed that Yami always had hots for her husband, but Pulkit was never interested in her.
When asked about the reports of her husband being in a relationship with Yami, Shweta said, "That is ridiculous. I know my husband and Yami is the last person he would want to be involved with. In fact, he didn'€™t even want to do films with her as€" he has acted with better actresses. Eight years ago, he had done a music video with her and at that time he wasn'€™t even talking to her. Yami always had her eyes on him, but Pulkit never had the hots for her."
She further added that Pulkit was never interested in doing films with Yami and it was Shweta who asked him to do the film. "Even now when he was offered Junooniyat and Sanam Re he did not want to do them. It was I who told him it'€™s okay to do Junooniyat with her. In Sanam Re, initially, another girl (a friend of mine) was considered, but at the last minute it fell through and Yami came on board. But I had loved the story and had full faith in Divya (Kumar, director), so I insisted that Pulkit do the film. I know that there is nothing going on between them," she added.
---
---
Just a year after their big fat Punjabi wedding, things have turned sour for the once-in-love couple. Pulkit and Shweta started dating when the former was a TV star. The two stuck by each other through thick and thin all these years but things aren't the same anymore. The two have been living separately for quite some time and Pulkit's family is cited as the reason behind the separation.

"We always loved each other, but eight months after the marriage he said he wanted to separate. The reason he gave me was his family. I didn't see it coming. I had given him a manual of how to be a perfect son-in-law to my parents and he had given me one about being the perfect daughter-in-law. But I guess there was something wrong with his manual", added Rohira.
On the work front, Pulkit made his Bollywood debut with Bittoo Boss in 2012 and the actor has since then featured in a number of films like Fukrey, Jai Ho and Bangistan. He is currently awaiting the release of Sanam Re.
Take a look at the celebrity breakups of 2015 in the gallery below: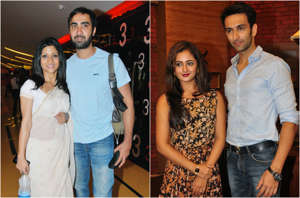 Celebrity breakups of 2015
Original link:
Pulkit never had the hots for Yami, says estranged wife Shweta Rohira