© Provided by IBNLive sridevijayaprada
In the 1980's Jaya Prada and Sridevi were considered to be arch rivals on the professional front courtesy their comparable dancing skills and vivacious personalities. In fact it can even be said that the two actresses were compared to one another at almost each and every stage of their respective careers. Moreover, they also shared screen space on quite a few occasions, adding a new dimension to their rivalry.
However, just a few days ago, when Sridevi gave Jaya a warm hug at the wedding reception of the latter's foster son it became clear that the actresses were ready to put professional issues aside and be friends in real-life.
Interestingly, a careful look at the colourful world of Southern cinema reveals that over the years quite a few professional rivals have shared a wonderful rapport with one another on the personal front. Today let us take a look at some such cases.
© Provided by IBNLive rajiniKF
Rajinikanth-Kamal Haasan: Two of Southern cinema's biggest names, Kamal Haasan and Rajinikanth have been professional competitors right from the time they worked together in the 1975 release 'Apoorva Raagangal'. Beginning their careers under the guidance of K Balachander, these two matinee icons have over the years won over a legion of loyal fans. While Haasan is loved by movie buffs because of his ability to use cinema as a medium for expressing his views, the 'Thalaiva' is worshiped by the masses thanks to his stylish mannerisms. Their completely different styles of acting have led to showdowns between their fans. This, however, has never affected their friendship. Strong proof of this was seen some time back when Rajinikanth gifted the 'Sadma' star a special painting and praised his talents.
© Provided by IBNLive ajith_vijayF Ajith-Vijay: As far as contemporary Tamil cinema is concerned, Ajith and Vijay are names that need no introduction at all. The two stars began their careers around the same time in the 1990's, and have over the years endeared themselves to movie buffs by playing to the gallery quite effortlessly. These developments have needless to say led to comparisons between the two, resulting in the now infamous rivalry between their respective fans. In fact of late, things have become so bad that every time either actor has a release 'Thala' and 'Illayathalapathy' fans rip each other apart on the social media. Luckily, despite the animosity between their supporters, Ajith and Vijay have always been good friends and are often seen spending quality time with each other during award ceremonies. Moreover, their wives are good friends as well.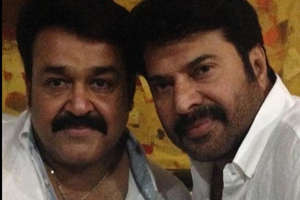 © IBN LiveMammootty-Mohanlal: During his nearly 45 year long career Mammootty has quite successfully established himself as a flag bearer of the Malayalam film industry. The 64-year-old National award winner has entertained audiences with riveting performances in films such as 'Mathilukal', 'Vidheyan' and 'Karutha Pashikal'. Similarly, Mohanlal too has floored critics and audiences alike with films such as 'Kireedam', 'Bharatam' and 'Abhimanyu'. Interestingly, their comparable achievements have over the years resulted in them being labeled as 'arch rivals'. However, despite this competition, the two superstars have remained friends in personal life. Movie buffs got strong proof of their rapport, when a few years ago Mammooty invited 'Lalettan' to the music launch of 'Thappana' and gifted him the first copy of the film's album.
Darshan-Sudeep: Sudeep and Darshan are undoubtedly two of Kannada cinema's most bankable stars at present. While Kiccha has established himself as a force to be reckoned with courtesy successful films such as 'Veera Madakari' and 'Ranna', the 'Challenging star' has proved prowess with movies like 'Saarathi' and 'Bulbul'. Their comparable popularity has made them a threat to one another. Perhaps that is why a few months ago movie buffs were left shell shocked when Sudeep's Tamil film 'Puli' released alongside Darshan's 'Mr Airavata'. However, competition aside, the two stars share a terrific rapport on the professional front. In fact, last year, Sudeep wished Darshan on his birthday and dedicated his team's victory in the Celebrity Cricket League to him.
From: