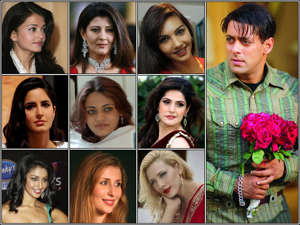 Salman: Eligible bachelor and his many girlfriends
Heard the latest? Salman Khan, the Dabangg superstar of Bollywood who was acquitted of all charges in hit-and-run case of 2002 by Bombay High Court, is expected to get married in the early part of next year, as there is no legal tangle left to hold him back from taking the marital plunge now.
The buzz doing the rounds in the industry is that Salman Khan and his father Salim Khan as well as other family members Arbaaz Khan, Sohail Khan, etc, are hugely relieved by the verdict and feel that the Dabangg Khan should not delay the decision anymore now.
The presence of Iulia Vantur, the Romanian beauty, who has been visiting Salman Khan's house recently and was also seen during the verdict, is said to be in Mumbai and not for nothing.
In fact, Iulia is said have broken down after hearing the verdict and was ecstatic as she has feelings for Salman Khan.
Moreover, there have always been some rumour about Salman Khan and Iulia Vantur as far as romance is concerned and may be, just may be this is the right time to take it to another level.
This is also being given some credibility by the fact that Salman's main point for refusing to taking wedding vows had always been his court cases, which he thought could go against him.
In that case, he did not want his spouse or children to face embarrassing situation in the society. However, that is all a thing of past now and the Dabangg Khan is free from his legal worries.
So, do not be surprised if Salman Khan soon announces his marriage plans to one and all on his favorite show Bigg Boss 9.
By K K Rai
See the original post –