Bollywood actor Sanjay Dutt is all set to be released from the Yerawada Central Jail in Maharashtra on Thursday, February 25. And, no one can be happier about it than his daughter, Trishala Dutt. Waiting eagerly for the day, the 27-year-old is on a throwback mission on her Instagram account. Earlier, she shared a video from his award-winning film Khalnayak and she posted another one from Kaante on Tuesday.
© Provided by Hindustan Times
Sanjay is serving 42 months of his remaining jail term after Supreme Court upheld his conviction in 2013. He was sentenced to a 5-year imprisonment after being convicted in the March 12, 1993 Mumbai serial bomb blasts case for possessing illegal arms. He had already served 18 months before the verdict was pronounced.
Dutt's 27-year-old daughter recently took to her Instagram account and posted a video from his popular song Ishq Samunder Dil Ke Andar from Kaante (2002). Along with the video, Trishala wrote, "it's past 12AM in Mumbai! which means in 24 Hours my lion is out of the cage and back in jungle @dutt1 #roamfree #countdown #anxiouslywaiting #iloveyou #excited #Icantwaittoseeyou #newbeginnings #prouddaughter."
Trishala took to Instagram on Saturday to share this hilarious video from 'Khalnayak' where Sanjay wears a ghaghra-choli and dances to the tunes of Choli Ke Peeche. "The countdown has begun…5 days left until my tough guy is free forever and comes home after 3 years.. #icantwaittoseeyou #loveyou," she wrote.
Talking about Sanjay Dutt's release Trishala said in an earlier interview to Hindustan Times, "He's going to be back with a bang, as usual. He is someone you can't break, and I'm sure his fans will be completely blown away once he's back. Even I'm excited, [and] I can't wait to see what he's going to do."
A total of 144 days of remission was granted to Sanjay after he was convicted in the 1993 case. During this time, he was seen in three movies 'Zanjeer', 'Ungli' and 'PK'.
In Pics: Bollywood's prodigal son Sanjay Dutt returns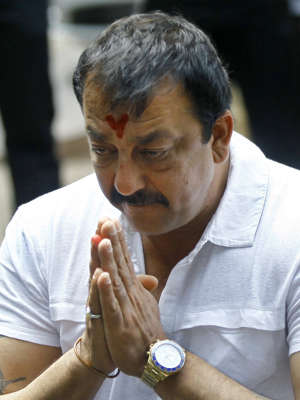 Bollywood's prodigal son Sanjay Dutt returns
See the original article here:
Sanjay Dutt release: Trishala shares song videos in celebration