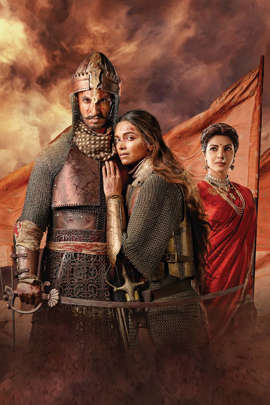 Bajirao Mastani
Ranveer Singh's rise as a sturdy reliable actor has been swift and steady. He made a strong impression with his first film Band Baaja Baraat in 2010 and grew with each film. There's no denying that Sanjay Leela Bhansali's Goliyon Ki Raaslila Ram Leela was a turning-point in Ranveer's radiant career.
And now the same director's new opus Bajirao Mastani promises to take the actor's career to another level. Ranveer Singh speaks to Firstpost about playing the Maratha warrior, and his 5 year long journey in Bollywood. Excerpts:
What was you reaction when you first saw yourself on screen as Bajirao?
I saw the complete film for the first time on Tuesday, and I was exhilarated. A lot of people have worked very hard on the film. It was a very painstaking film to make, and each one of us invested our lives completely into the film. Our personal lives took a backseat so that we could all put our collective efforts up there on screen. And to now see it come to life, it all seems worth it.
How do you evaluate your own performance in Bajirao Mastani?
I find it tough to watch myself on screen. I'd rather see movies which I'm not part of. But yes, I like my performance. Actually, I'm over-critical of my work, and it will take three to four viewings before I can say whether I've achieved what I set out to achieve. I always wonder if the role could've been interpreted in another way.
What did your parents think of your performance?
I was sitting next to them and watching, and they seemed to have loved it. Of course Mom is biased; she loves everything I do. But Dad is far more objective. He is a hardcore movie viewer. I get a very objective assessment of my performances from him. And he also loved my performance.
How much do you think you've grown as an actor in 5 years and how much Sanjay Leela Bhansali contributed to your evolution as an actor?
I definitely think I've grown as an actor and Mr Bhansali's contribution is massive, to say the least. Every time I work with him – and so far I've had the opportunity to do so in two films – he pushes me beyond my own boundaries as an actor to bring out something not everyone can. His understanding of human emotions and his instinctive grasp of the drama inherent in life puts him in a unique position.
Mr Bachchan once told me Bhansali puts actors in touch with emotions they didn't know existed within them.
Yeah , it wouldn't be wrong to say that. I keep telling him, I am his Robert de Niro and he's my Martin Scorsese. Mr Bhansali really gives you wings to fly as an artiste. He empowers you as an actor. He gives you the freedom to exercise your own choices and he wants that freedom to be born out of your own experiences. He is a very special director with a very unique process of working, and I am adaptable to that process. We understand each other completely, and he allows me the freedom to interpret scenes the way I want to.
How much of your own research did you put in to play Bajirao?
Mr Bhansali's team provided me with all the research material. They had done all the spadework for me. I just had to take a docket from them and go into semi-isolation for three weeks. I locked myself up in a hotel room and began working on my character.
For a person as gregarious as you that must have been difficult.
No, I was ready to do whatever the part required me to. I was ready to plunge deep into my rabbit hole and indulge in some hardcore characterization.It was difficult to be on my own for the first few days. After that I quite enjoyed it. I found the process of discovering the life of Bajirao quite therapeutic.
There isn't much documented evidence on Bajirao, is there?
I actually went into the lives of many great warriors across the ages, to find out how they lived.
And now you seem to own the role
That's a huge compliment and responsibility.
How do you feel about your journey so far ?
I am happy about it. Of course there is always scope for improvement and progress. But on the whole I think I've done well for myself.
Recommended: All you want to know about Bajirao Mastani
Read this article: