Shyam Babu, as the veteran film-maker, Shyam Benegal is affectionately known among his friends and admirers, turned 81 on December 14. I call him the most influential director since Satyajit Ray. In his self-deprecating way, he brushed off my comment saying it was a "bit too much". But his powerful influential pioneering and pathbreaking body of work from Ankur in 1974 to Well Done Abba in 2010 speaks for itself.
Here's saluting the genius of Benegal mentioning 10 of his best films.
1. Ankur (1974)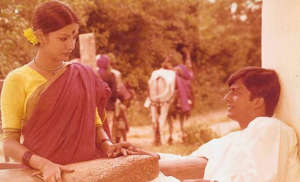 © Screengrab from YouTube Many film buffs including me regard Shyam Benegal's Ankur as the single-most influential Indian film since Satyajit Ray's Pather Panchali. Its depiction of feudal tyranny and sexual oppression was unique to Indian cinema, as was the naturalistic performances by Shabana Azmi, Sadhu Meher and Anant Nag. Shabana went on to become India's most powerful dramatic actress. And to think she got the role only because Waheeda Rehman was scared to play an adultress! Ankur and its neo-realism were widely accepted. The film was a commercial success.
2. Nishant (1975)
A year after Ankur emblazoned its vital virtues on the future of Indian cinema, Benegal again broke the mould with this dark and devastating study of rural fascism. A school teacher Girish Karnad's wife Shabana Azmi is abducted and repeatedly raped by the Zamindar Amrish Puri. The film gave us a gallery of fresh acting greats including Naseeruddin Shah and Smita Patil .The latter dazzled in a brief role. The luminous lull before the storm.
3. Manthan (1976)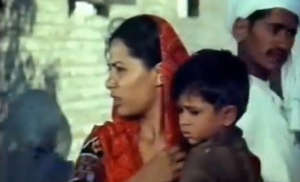 © Screengrab from YouTube Made to support Verghese Kurien's milk co-operative movement the film's propagandist's undercurrents are firmly prevented from barging into the plot's cinematic qualities. The plot about an activist-doctor(Girish Karnad) encouraging the women of an impoverished village in Gujarat to become self-sufficient is a coiling collage of arresting anecdotes. To this day this wonderful slice-of-life cinema's revolutionary resonances echo a message of social equality. Smita Patil's portrayal of the rural Gujarati woman was to originally go to Shabana Azmi. But she had a fight with her mentor.
4. Bhumika (1977)
A powerful bio-pic on the 1940s' Marathi actress Hansa Wadkar. Benegal sees her life through the various men who tried to own and smother her spirit. Smita Patil plays the protagonist with a fluent mix of dilemma and sensuality. She had remarkable male support in Amol Palekar, Anant Nag and Amrish Puri. Benegal's most seductive film.
5. Junoon (1978)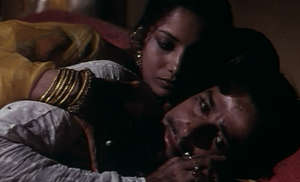 © Screengrab from YouTube Benegal's association with producer-actor Shashi Kapoor yielded two outstanding films. Based on Ruskin Bond's novella, Junoon was a tumultuous epic story of forbidden love between a passionate Pathan (Shashi Kapoor) and a British beauty (Nafisa Ali) during the time of the Freedom Movement. Curiously, Shashi Kapoor's extremely talented wife Jennifer starred as Nafisa's mother, while Shabana Azmi doing almost a reprise of her role in Satyajit Ray's Shatranj Ke Khiladi played Shashi's sultry wife. This was Benegal's most lavish presentation to date shot in panoramic frames that caught the turbulence of a passion that replicated the mood of the times.
6. Kalyug (1981)
Culled from the Mahabharat, the film about two warring families caught in a corporate war suffers from excessive characters. Even the elaborate family-tree graph at the beginning can't help us to keep track of who's who. But nonetheless the film's energetic pacing and brilliant actors made this second collaboration between Benegal and Shashi Kapoor worth a watch.
7. Mandi (1983)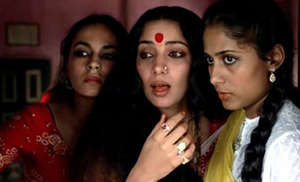 © Screengrab from YouTube A gorgeous gallery of female actors playing a bunch of blithe-spirited whores who actually enjoy what they do, the film had an absolutely enchanting cast of female actors wrapping their limbs around roles they were born to play. Leading the cast was the fattened-up Shabana Azmi as the Madame of the brothel and Smita as her favourite girl in the brothel. Sexual politics at its delectable best. Srijit Mukherjee's recent Bangla film Rajkahini is directly inspired by Mandi.
8. Trikaal (1985)
Set during the last days of Portuguese domination in Goa, this sumptuous feast for the eyes featured Leela Naidu as a graceful matriarch trying to keep her family from falling apart. Ashok Mehta's cinematography was an asset.
9. Susman (1987)
© Screengrab from YouTube Splendidly spotlighting the poverty of handloom weavers in Andhra Pradesh, this evocative film featured Om Puri in his career's best performances (yes, superior to what he achieved in Aakrosh and Ardh Satya). Om learnt how to use the weaving loom for months before facing the camera.
10. Suraj Ka Satvan Ghoda (1992)
Based on a novel by Hindi litterateur Dharmvir Bharati, this complex source-material was filmed with a fluent grace missing from most movie adaptations of literary works. Rajit Kapur, in a finely nuanced performance , played a man evaluating his life through his relationship with three women (Rajshri Sachdev, Neena Gupta and Pallavi Joshi). A tough film to make, made ostensibly simple and graceful by a filmmaker who never hid his narrative intentions under reams of metaphors and ambiguities. This directness of approach was progressively amplified. It diluted the impact of some of Benegal's later works.
This article:
Shyam Benegal turns 81: Here are 10 of the director's best films