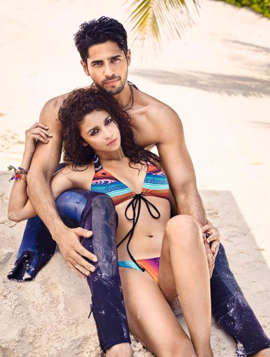 © Vogue India From being a gawky 17-year-old on her first movie set to a 22-year-old confident actor, Alia Bhatt has come a long way. Though Alia and Sidharth Malhotra, her co-star in Student of the Year (2011) started their careers together, Alia's age was a cause of concern for Sid, recalls the actor in an interview with Vogue India for their March issue.
"During Student, he treated me like a kid, and I didn't like that," says Alia, to which Sidharth retorts, "You were 17! Anything under-18 is illegal." Alia shoots back, "So? I wasn't asking you to marry me. I was asking you to be a regular friend."
Though the two stayed in touch, they both got busy with their respective careers and trying to find their footing. However, it was during one such movie screening, that Sid and Alia struck a special chord.
Sid says, "I could feel a connection after she came for the Hasee Toh Phasee screening. She was very expressive after seeing the film, and I found that quite warm."
Thereafter, there was no looking back, their friendship only grew. Though she is forthcoming that they do hang out together, she does not like the intrusion on her personal life.
As Alia confesses, "Sid and I, it's not like we don't hang out. We go to parties together, visit friends together and move around openly. But we are not trying to project an image here, or trying to talk about our personal lives in the open. That's not what we are here for."
For two people who are so young and successful, the number of link-ups and stories that get written about them are comparatively less.
Ask Alia about this and she shoots back, "There may not be sensational cat fights but there are a lot of rubbish stories in the news, on and off."
The last thing she read about her was a story linking her to actor Ranbir Kapoor. "I read that I was the cause of the Ranbir-Katrina breakup," she fumes. "It was so ridiculous that I didn't think it needed a clarification."
Caught: Sidharth Malhotra, Alia Bhatt's secret Valentine's Date

Sidharth Malhotra was seen chilling by the beach with Alia Bhatt on Valentine's Day! Check out the pic here!

Bollywood Now

Alia Bhatts Latest Selfie With Shah Rukh Khan And Gauri Shinde

As Shah Rukh Khan has been shooting with Alia Bhatt in Goa, the actors were seen posing for a selfie. Check out the video…

Lehren

Aditya Roy Kapur And Shraddha Kapoor COZY Moments On OK Janu Sets

Bollywood couple Aditya Roy Kapur and Shraddha Kapoor will be seen sharing crazy moments on the sets of their upcoming film OK Janu. Check out their pictures right here.

Lehren
Read More: