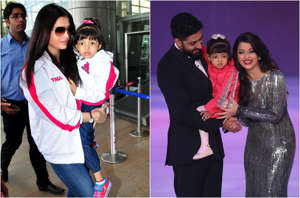 25 adorable pics of Aishwarya & Aaradhya There was a time when stars like Dharmendra and Manoj Kumar kept their children completely out of the limelight.
Now star kids learn to face prying cameras even before they learn to walk properly. These poor celebrity progenies are struggling to come to terms with the adulation their parents receive. I remember Madhuri Dixit's sons wondering why their mother was being stared at when they came to India for the first time.
Now of course the Dixit-Nene boys are used to being the centre of attention everywhere they go.
This Diwali, as the cameras' darling Aishwarya Rai Bachchan braved it through gawking mobs with her little one clasped to her bosom, my heart reached out to little Aaradhya Bachchan who seems to be trying valiantly to come to terms with the attention showered on her.
It's not easy for a three-year old girl to have flash bulbs piercing her eyes; and to be scrutinised for her clothes, hair and shoes alongside her chic mom is not just insensitive, it is insane! It may be fine for Suri Cruise who at age 5, seems to enjoy being a fashion diva. But what happened to her normal happy healthy life of dolls and teddy bears? Little Suri is welcome to choose her Choos. We really don't want Aaradhya's normal childhood to be vandalised by the paparazzi.
I brought up my concerns with Aaradhya's grandfather who sighed in resignation. "Kya karen? The attention is a little disconcerting. We've gotten used it. Aaradhya would also have to get used to it."
Akshay Kumar is more charitable about his children, 15-year old Aarav and three-year old Nitara, being hounded by the paparazzi. "They are only doing their job. Woh unki rozi-roti hai," he rationalises the unreasonable invasion of his children's territory.
I must admit Akshay's little daughter is already a camera chameleon. Or for that matter Shah Rukh Khan's AbRam. The boy is a complete chip off the old block. Like his dad, he loves the lenses to be on him.
Not all star-children are prone to preen before the paparazzi. Recently there was a picture of Karisma Kapoor's little son Kiaan raising his hands to his face in protest as the cameras went mad.
"Nowadays they are everywhere, outside restaurants and airports. They don't care how you're looking after flying for 14 hours or how cranky your child is, they just want their pictures. Kiaan was tired and irritable after travel when the cameras suddenly opened fire," says a very close and protective relative of Kiaan Kapoor.
Years ago, I remember Sushmita Sen telling me how she never allowed her daughter Renee to be photographed. This was when there was no active paparazzi in the film industry. By the time she adopted her second girl, it was too late to stop the shutterbugs.
Now Sushmita happily poses with her two daughters.
Might as well lie back and enjoy it.
Read article here: