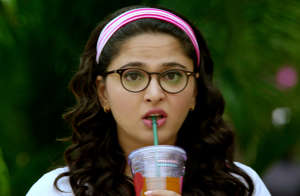 Know Your Star: Anushka Shetty
The interesting part about Anushka Shetty is that the actress doesn't own her social media accounts and lets her fans run her official pages, but still she has a mass fan following – 10,472,320 on Facebook and 58,2000 on Twitter.
"Social media is not for me", she said.
Nicknamed Sweety, Anushka says that her real life is quite boring.
"I am a people's person. But I want to keep all the socialising in the real world. I can't fathom having a Twitter handle and writing something as inane as a "Hi" and go to bed, you know! (laughs). If I am on social media, then I would want to connect properly with people and I don't think I can do that yet", she explained while talking to TOI.
The actress says that when she is not acting; she prefers to stay like a simple Tulu girl.
"Sweety is a boring person. Nothing exciting has happened in my life over the last ten years that I have been an actress, besides the work. This is why you see me coming out only during promotions. Anushka is what I become for my audiences. Genuinely, I don't want people to know who Sweety is. Sweety is only for my family and friends", she said.
Visit source: