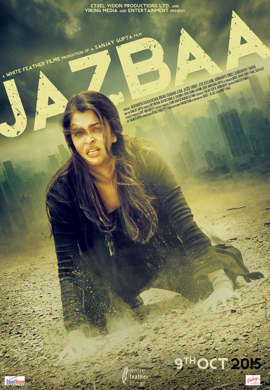 Aishwarya Rai is back with Jazbaa New Delhi: Aishwarya Rai Bachchan's comeback film, the crime thriller Jazbaa, has earned more criticism for its loud and sloppy storytelling than laurels. Over the weekend, it earned about `15 crore.
Not all comeback movies of superstars are successful. Here's a list of Bollywood's 10 most unsuccessful comebacks.
1. Madhuri Dixit: In 2002, Madhuri Dixit appeared in Sanjay Leela Bhansali's Devdas. Five years and two kids later, she returned with Anil Mehta's musical drama Aaja Nachle. The film remained embroiled in controversies owing to allegations of casteist remarks. Mixed reviews resulted in collections barely exceeding 7 crore at the box office. Dixit later featured in Dedh Ishqiya and Gulab Gang in 2014, but these too failed to make an impact.
2. Govinda: The comedy king never really gave up on films, but a stint in politics resulted in a low phase during the mid-2000s. He made an attempt to strike back and succeeded to an extent with Partner, but harshly-criticized films like Bhagam Bhag and Salaam-E-Ishq that together earned less than 35 crore didn't help.
3. Raveena Tandon: The actor got married in 2004 and saw the release of a long-delayed comedy Sandwich in 2006. She returned with a small but significant role in Amitabh Bachchan-starrer Bbuddah …Hoga Terra Baap in 2011 that made slightly over 13 crore at the box office and received much flak for its loud storytelling.
4. Karisma Kapoor: Soon after the release of thriller Baaz: A Bird in Danger in 2003, Karisma Kapoor got married and took a nine-year break. While one of her old, incomplete films called Mere Jeevan Saathi, co-starring Akshay Kumar, was released in 2006, she technically returned to the big screen with Vikram Bhatt's romantic thriller Dangerous Ishhq in 2012. The film earned barely 6 crore at the box office.
5. Rekha: While she had made brief appearances in films like Krissh and Sadiyaan, Rekha assumed the title role last year, for the first time in several years, in Indra Kumar's Super Nani. Also starring Randhir Kapoor and Sharman Joshi, the film registered box office collections of a little more than 2 crore.
6. Shatrughan Sinha: Apart from brief appearances in a couple of films, Shatrughan Sinha appeared in a significant role in action film Aan: Men at Work released in 2004 after a gap of several years. The film failed miserably at the box office, earning a little more than 4 crore.
7. Preity Zinta: In 2013, Preity Zinta starred in and co-produced Ishkq in Paris, a romantic drama shot in exotic foreign locations. The film failed to even reach the 2 crore mark at the box office and can barely be recalled today. Zinta's last leading role was in Samir Karnik's Heroes in 2008, though she made special appearances thereafter.
8. Manisha Koirala: The actor never really disappeared from the scene but her last memorable outing remains Ram Gopal Varma's Company in 2002. In 2012, she attempted a comeback with Varma's Bhoot Returns that managed about 5 crore at the box office.
9. Suchitra Krishnamoorthi: Krishnamoorthi was the leading lady of Kundan Shah's classic comedy Kabhi Haan Kabhi Naa, co-starring Shah Rukh Khan that released in 1994. She came back to films with the 2005 thriller My Wife's Murder that earned a little over 1 crore and followed it with Ram Gopal Varma Ki Aag two years later that tanked completely.
10. Imran Khan: After a string of flops, including Gori Tere Pyaar Mein and Once Upon a Time in Mumbai Dobaara!, and a year-long sabbatical, Imran Khan returned to movies last month with Katti Batti, co-starring Kangana Ranaut. The film received extremely poor reviews and earned 24 crore at the box office.
All figures have been sourced from movie website Bollywood Hungama.
Original article: