© Provided by Firstpost
by Sourav Majumdar & Deepak Ajwani
Superstar Shah Rukh Khan, at 50, is raring to take fresh guard in his career. Shah Rukh, who has wrested the top slot in the Forbes India Celebrity 100 List this year from rival Salman Khan, has made it clear that he will do around three films every year from now on, up from the one-film-a-year schedule currently. But that will be done by way of a calculated strategy, where he will do middle-of-the-road, lower budget movies only after balancing that with one big blockbuster a year.
In a nearly three-hour chat with Forbes India magazine, Shah Rukh said that the one blockbuster would help cushion the other 'different' films in his slate. Importantly, his movie production company Red Chillies Entertainments, is also turning distributor for the first time with the upcoming Dilwale, which releases on December 18. Khan tops the 2015 Forbes India Celebrity 100 rankings with hefty Rs 257.5 crore earnings, followed by Salman Khan and Amitabh Bachchan.
The Forbes India rankings are based on a comprehensive score, taking into account the celebrities' earnings and fame ranks. Shah Rukh had topped the 2013 list as well, but lost out to Salman last year.
"I had always promised myself that at the age of 50 I will do films for myself. One has to write such films as well. And I don't write films. Yes, there will be a commercial film as well, but now I am also going to do the cinema I want to do. So I will do 3 films a year," Shah Rukh said.
"So with one big movie like Dilwale which takes 160 days to make, you do other ones like Raees and Fan. I have much more to offer as an artiste to myself. Also, now I get bored if a film takes too long to complete. So after 3 months, once I have cracked the code and understood it all, then I feel I am done with it. I don't get excited then," he said.
Shah Rukh said he wants to make four or five key films in his career for which he would like to be remembered, "by my children, not anyone else."
"Adi (Chopra) and Karan (Johar) counted six or seven I have already done, but I think those are outdated now. I feel I can do better. I think Fan will be one of those films. But then again, the list can change after a few years. Otherwise there's no growth," he said.
In Fan, produced by Yash Raj Films, Shah Rukh plays a younger version of himself as a fan of the filmstar, by way of special effects. Visibly excited by the film, directed by Rahul Dholakia of Parzania fame, he said it is the first time such special effects had been attempted for the entire duration of a film.
"It's like it's me and yet not me," he said. Red Chillies VFX, the special effects arm of his production house, is working on the special effects for Fan.
The SRK Legacy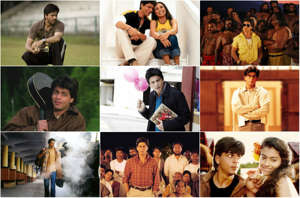 25 unforgettable movies of Shah Rukh Khan Speaking about his legacy, Shah Rukh said: "I am averse to the word legacy. You don't leave a legacy. Legacies are made. If you see Mannat [his home in Bandstand, Mumbai], it's not a legacy. It's just a house. My children are my legacy. I cannot leave a legacy for them."
Just like his father, he would be happy if his children Aryan, Suhana and AbRam excelled in any field of their choice, he said. Shah Rukh had also never tried to impress upon them his stature as a movie star. "It is so ironical if I have to explain to my children how great I am. It'll be stupid. My children don't think of me as a special person. I am sure they think of me as a very special father," he said, adding that he does not think of movies as a familial business where his children also should be film actors.
"My father knew zilch of acting. He never thought of films. But I am the biggest film actor in this country. So it does not follow. My son may not be an actor. And it's all right. My daughter can be an actress; she wants to, but she may not. And it's all right. Am I thinking of letting my profession continu? No. My legacy will continue whether they become restaurant owners, sportsmen or whatever."
"I don't think that after me, my children will keep my name high. After me, my children should keep their names high, and that's what matters. Having said that, the only thing I have told them to have is a yearning for learning which my parents gave me. I have told them to read all the books in my library. I've told them, if you don't then you'll disappoint me a little. I want them to be my friends, my legacy, no matter who they become. And have an education," he said.
Shah Rukh said he had to send his two children, Aryan, 18, and Suhana, 16, to London for studies so that they are not exposed to his world at their impressionable age. "They know who I am, they're very cool kids, but I feel the things around me — from security, the bouquets, brickbats, functions etc, that doesn't happen to normal human beings. Mine is an abnormal public life. There are a lot of good things and bad things. They don't believe either but it must be making an impression on them. So unfortunately, I have had to take them away from India and make them study abroad. I like that. But I wish I could have avoided it."
The loneliness of public life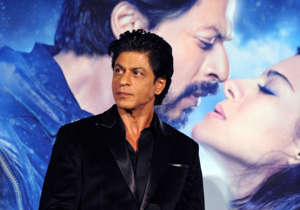 Shah Rukh Khan turns 50 Shah Rukh said he is someone who gives his all when he does a movie and then needs to detach himself from it. "I have that kind of life, I give so much to it, then I have to detach myself from it. One hundred percent, it takes a toll. I cannot continue with 'see how much business Chennai Express has made..' etc. Some get upset because I am no longer in touch with them… I will give it my all and then break away and get on to the other one with passion knowing I will break away again. It makes you very reclusive, quiet, sad, lonely," he said.
"It's not the loneliness of being at the top or because I am very well to do. Very few understand this because very few reach this stage. The good things and the bad things are both exaggerated. I don't have the freedom to actually express that to anyone. I used to talk to my daughter when she didn't understand anything. Now I talk to AbRam [his two and a half year old son]."
Shah Rukh said he doesn't tell his family about his upheavals, "They catch me sometimes. The worst thing possible as a big star is to tie the emotions of your family with your day to day things. It'll kill them. They aren't experiencing all that. I am experiencing the high of winning the awards, millions of people coming, I am really happy and I can't give them the upheaval all the time. So the people that are supposed to be the closest to you, I can't be close to them."
"I have to somehow protect them from me. Can you imagine protecting your daughter from you? As a father you don't. But you can't express your emotions to your own family lest they start getting bogged down. I can't come back and say oh, I have had a bad day. I see my kids for four hours. They should see me as a regular father. I have to quickly enact being another person so that my children and family don't get bogged down by the ups and downs of my public life," he adds.
(The Forbes India Celebrity 100 special issue hits the stands this weekend)
Recommended
Shah Rukh Khan ranked on top of the Forbes India Celebrity 100 list
All you want to know about Shah Rukh Khan
Continue reading here: