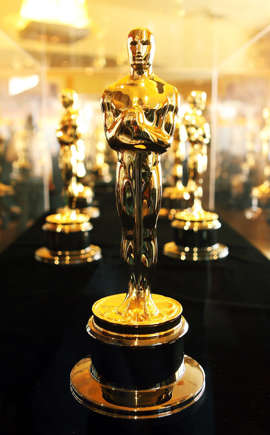 Photos: Oscars 2016 Winners
10:29 am: Morgan Freeman announces Best Picture: Spotlight
10:23 am: Best Actor in a Leading Role: Leonardo DiCaprio, The Revenant
10:18 am: Best Actress in a Leading Role:: Brie Larson, Room
10:13 am: Eddie Readmayne, nominated for Best Actor, on stage to announce the winner of Best Actress tonight.
10:08 am: Best Director: Alejandro G. Iñárritu, The Revenant
9:59 am: Sacha Baron Cohen and Olivia Wilde introduce the Best Picture Nominee – Room and Brooklyn
9:57 am: Sam Smith dedicates his Oscar to LGBT community
9:56 am: Best Original Song: Writing's on the Wall, Sam Smith, Jimmy Napes for Spectre
9:55 am: Common and John Legend to present Best Original Song.
9:52 am: Best Music (Original Score) – The Hateful Eight
9:40 am: US Vice President Joe Biden on stage to introduce Lady Gaga's performance tonight. Gets a rousing welcome
9:38 am: Best Foreign Language Film – Son of Saul, Hungary
9:35 am: Best Short Film (Live Action) – Stutterer
9:24 am: In Memorian – Oscars pay tribute to Saeed Jaffrey
9:21 am: Cheryl Boone Issacs, Director of Academy Awards on stage
9:20 am: Whoopi Goldberg is on stage
9:18 am: Amy won the Grammy Award for Best Music film earlier this month. Director Asif Kapadia used archival footage and testimonials to offer new insights into Winehouse, who died in 2011 from accidental alcohol poisoning.
9:13 am: Another Indian connection at Oscars, Asif Kapadia wins big
9:12 am: Best Documentary (Feature) – Amy
9:11 am: Dev Patel on stage to present Best Documentary Feature
9:10 am: Best Documentary (Short Subject: A Girl in the River: The Price of Forgiveness
9:07 am: Best Documentary Short Film to be announced shortly
9:03 am: Mark Rylance says it is a wonderful time to be an actor.
9:02 am: Best Actor in a Supporting Role: Mark Rylance, Bridge of Spies
8:52 am: Will Sylvester Stallone win the coveted #Oscars..Will know in a few minutes from now.
8:45 am: The Weeknd is performing Earned It
8:42 am: Girl Scouts sell cookies in the audience at the Oscars.
8:41 am: Best Animated Feature Film: Inside Out
8:40 am: Buzz Light Year and Woody from Toy Story are on stage to present Best Animated Feature Film award.
8:37 am: Minions on stage and present the Best Animated Short Film to Bear Story
8:26 am Best Visual Effects – Ex Machina, Andrew Whitehurst, Paul Norris, Mark Ardington and Sara Bennett
8:23 am Best Sound Mixing: Mad Max: Fury Road, Chris Jenkins, Gregg Rudloff and Ben Osmo
8:21 am: Best Sound Editing: Mad Max: Fury Road, Mark Mangini and David White
8:19 am: This is the 5th award of the night for Mad Max: Fury Road
8:18 am: This is Margaret Sixel's first Oscar and it is the fourth Oscar of the night for Mad Max Fury Road
8:09 am: Achievement in Film Editing: Mad Max: Fury Road, Margaret Sixel
© Reuters
8:08 am Priyanka Chopra and Liev Schreiber on stage to present an Oscar in Film Editing
8:07 am This is the first award of the night for The Revenant
8:06 am: Achievement in Cinematography: The Revenant, Emmanuel Lubezki
8:04 am: Rachel Mc Adams of Spotlight and Michael B Jordan on stage to present Best Cinematography.
7:59 am: Jennifer Garner looks pretty in black as she introduces Best Picture nominees.
7:57 am: This is the third Oscars for Mad Max: Fury Road tonight.
7:56 am: Best Make up and Hairstylist: Mad Max: Fury Road, Lesley Vanderwalt, Elka Wardega and Damian Martin
7:52 am: Best Production Design: Mad Max: Fury Road, Colin Gibson (Production Design) and Lisa Thompson (Set Decoration)
7:51 am: Tina Fey and Steve Carell on stage to present Best Production Design.
7:50 am: Best Costume Designer: Mad Max: Fury Road, Jenny Beavan
7:48 am: Cate Blanchett, who has won 2 Oscars and is nominated for the 7th time, is on stage to present Best Costume Design.
7:43 am: Alicia Vikander wins Best Actress in A Supporting Role. It was her first Oscar win and nomination.
7:40 am: J.K Simmons on stage to announce Best Actress in A Supporting Role.
7:33 am: Sam Smith performs "Writing's on the Wall".
7:30 am: Chirs Rock brilliantly spoofs black v/s white discrimination in Hollywood movies.
7:21 am: Winner of Best Adapted Screenplay: The Big Short, Charles Randolph and Adam McKay
7:20 am: Russell Crowe, Ryan Gosling are on stage to announce the Best Adapted Screenplay. Russell has won Two Academy Awards.
7:18 am: This is the first award of the night, first for Spotlight.
7:17 am: Best Original Screenplay: Spotlight, Tom Mccarthy and Josh Singer
7:15 am: First award of the night is being announced by Charlize Theron: Best Original Screenplay.
7:11 am: We have a lot of snubs this time at Oscars. We also want equal opportunities for Black, says Chris Rock in his monolgoue.
Chris Rock: They ask the men more because they are wearing all the same so they ask them more.
7:10 am: Is Hollywood racist, asks Chris Rock.
7:08 am: You need to have Black categories: Chris Rock. If you want to have Black people nominated then you should have categories for them: Chris Rock on #Oscarssowhite
7:06 am: Jada Pinkett Smith boycotted Oscars but I wonder why?: Chris Rock
7:03 am: Oscars 2016 host and funnyman Chris Rock opens the show. He says "I am Academy Awards, otherwise known as the White People's Choice Awards. I thought about quitting the Oscars, last thing I need is to lose another job to Kevin Hart."
7:00 am: Priyanka Chopra is garnering all the praises back home. She looks lovely and says feels like a 'princess'.
6:55 am: I wasn't aware of how Spotlight operates and how independent it was, says Mark Ruffalo
6:53 am: Leonardo Dicaprio and Kate Winslet recreate Titanic moment on Oscars red carpet.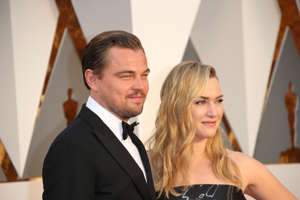 © Dan MacMedan-USA TODAY NETWORK
6:50 am: Charlize Theron rocks the red carpet.
6:40 am: Priyanka Chopra says namaste India all the way from Oscars red carpet.
6:33am: Leonardo Dicaprio is on the red carpet. He is nominated in the Best Actor category for his role in The Revenant and is most likely to win the Golden Statue this year.
6:29 am: Oscars host Chris Rock goes through his dialogues.
6:24 am: Lady Gaga, who is also making a performance at the Oscars tonight, is ravishing in a white strapless gown. Lady Gaga, who has been a survivor of sexual violence says she is excited to be part of the show.
6:22 am: Sylvester Stallone, who has been nominated for The Creed and is the top contender for winning Best Supporting Actor is on the red carpet.
6:17 am Cate Blanchett looks amazing as she arrives on the red carpet.
6:16 am: Oscar winner Louis Gosset Jr's advice for younger actors- bring your A game out.
6:13 am: Julianne Moore is dazzling in black gown at the Oscars red carpet. I loved many films that have been nominated, I love Brooklyn.
6:10 am: Matt Damon sends his greetings out to his nephews Troy and Jack from the red carpet.
6:07 am: Jimmy Kimmel on the stairs of Dolby theatre as he makes an entry before the big award show.
6:04 am: Priyanka Chopra says the Oscars red carpet is ginormous. And she shows the world how do you strike a pose on the red carpet. (See Photos: Stars shine at Oscars red carpet)
5:55 am : Eddie Readmayne, nominated as Best Actor for The Danish Girl, is on the red carpet.
5:54 am: Cheryl Boone Isaacs talks about Oscars diversity. We are going to continue take actions,
5:45 am: The uber cute and talented child actor Jacob Tremblay of The Room is all excited abou
5:43 am : Brie Larson, who has been nominated for Best Actress performance in Room is on the red carpet. Priyanka Chopra in white at Oscars Red carpet
5:32 am: It's time to rejoice India, Priyanka Chopra has made her debut on the Oscards red carpet. Priyanka Chopra oozed oomph in a white Zuhair Murad strapless gown.
Host: The maverick Chris Rock will be taking centerstage as the host tonight. Known for his acerbic humour, Chris has already set tongues wagging by taking the Oscars head on with his tweet, 'The #Oscars. The White BET Awards. The issue relates to the controversy generated over the lack of non-white people in any of the nominees' list for the last two year. Chris who earlier hosted Oscars in 2005 can be expected to hold fort in his own inimitable style on the race related controversy and other issues.
Performances: Unlike Bollywood, Oscars have only limited set of performances designed to thrill and not bore. You will see Lady Gaga performing on three best song nominees. Multiple Grammy award winner Sam Smith and Canadian singer Weeknd will also belt out their hits.
Hot contenders for awards: Oscars undoubtedly celebrates and awards the best of English cinema. The Revenant is the front-runner with 12 nominations including Best Actor and Best Director. Leonardo Do Caprio the man who has been unlucky at Oscars may actually end up winning it this time for his standout performance in The Revenant.
Leo has already pocketed both Golden Globes and Bafta. However, one can never be sure for Oscars are known for springing surprises and this time Leo has some stiff competition coming in from Eddie Redmanye (The Danish Girl) and Micheal Fassbender (Steve Jobs). In the best actress category, Brie Larson(The Room) is the leading contender and offering her a tough fight is Saoirse Ronan(Brooklyn).
Veteran Sylvester Stallone looks set to pick the Oscar for Best Supporting Actor for Creed. The big one that of the Best Picture has lined up some classics which will result in a tough fight. Mad Max- Fury Road and The Revnant are tightly place as are The Big Shot and Spotlight.
Recommended: Oscars 2016: The Complete Coverage
This article: