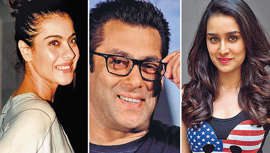 © Hindustan Times
A bevy of actors such as Salman Khan, Shraddha Kapoor and Kajol are putting on weight for their upcoming films. While experts say that this adds to the buzz of a film, fitness trainers warn that changing ones bodyweight suddenly can cause long-term harm to the body.
According to reports, Kajol, who is making her comeback in Rohit Shetty's Dilwale, would be putting on weight for parts of the film, and Shraddha will be doing the same for her upcoming film, Baaghi. "It will be challenging for me will be to physically change myself. I had lost a lot of weight during ABCD 2. The requirement for Baaghi is different. I'll have to put on weight for it," Shraddha was quoted as saying earlier.
Celebrity fitness trainer Mickey Mehta says it's safe for actors to gain weight if they do it slowly. "Weight puts stress on vital organs, which results in malfunction. When actors put on weight for films, it is bone and muscle weight … so there is less chance of a malfunction. The same holds true for heroines," he says.
Actor Farhan Akhtar, too, has been bulking up for his film Wazir where he plays an ATS officer, and Nawazuddin Siddiqui has also put on weight for Raees. Actors Aamir Khan and Salman Khan have both beefed up considerably to essay the roles of a wrestler in their films, Dangal and Sultan respectively, too. "I've to put on a lot of weight. Lot of muscles and toned body is a must. Sultan is an action film, so a strong body is imperative," Salman had said earlier.
Trade analyst Omar Qureshi says that putting on weight for a role adds to its authenticity and creates more buzz for the film. "As the competition has got tougher, actors are upping their game. They now concentrate on looking more like their character. If Salman looks like a wrestler, the audience will like it more," he says, adding that while this restricts actors from doing multiple films at the same time, it doesn't affect their career. "Most actors work on one film at a time, so they don't mind being restricted," Qureshi adds.
In the past, too, actor Kangana Ranaut put on 7 kgs for her film Tanu Weds Manu Returns while actor Emraan Hashmi had put on weight for his film Humari Adhuri Kahaani.
You may also like
Releases This Week: 'Katti Batti', 'MSG-2 The Messenger', 'Black Mass' & 'Trisha Illana Nayanthara'
Taken from:
There's no meat ban in Bollywood: Just ask Kajol, Salman, Shraddha