© MovieTalkies Virat Kohli Topples Hrithik Roshan And Fawad To Be The Most Desirable Man In India
Virat Kohli who may off the singles arena, is still The Most Desirable Man In India. In a recently conducted online poll, the cricketer topped the list of '50 Most Desirable Men' in India.
He has overtaken Bollywood hotties such as Hrithik Roshan and Fawad Khan, who are placed at number 2 and number 3, respectively. Virat, has also beaten popular choices such as Ranveer Singh, Shahid Kapoor, Farhan Akhtar, Sidharth Malhotra and fellow cricketer MS Dhoni who also feature on the list. New entrants to the list include Pakistani singer Atif Aslam and Ali Zafar, who has become a sensation post his Furious 7 release.
Anushka Sharma will be facing a hard time accepting that her boyfriend is desired by so many women in India. She should definitely watch-out for any woman eyeing her man!
See Below: Virat and Anushka's Love Story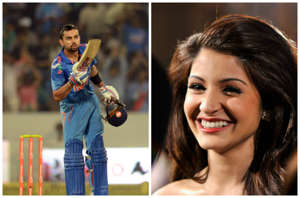 Love story of Anushka Sharma and Virat Kohli
View post: