© Provided by IBNLive
Shah Rukh Khan is known for being a very protective and supportive dad in the film fraternity. Many a times he's seen boasting about his children like a proud dad on social media.
From sharing the adorable pictures of Abram to congratulating Aryan and Suhana for their every little achievements, Shah Rukh Khan makes sure to bring it up on his profile!
Recently, SRK shared a video of Aryan strumming the guitar chords on the tune of 'Jabra Fan'. With just a week left for the release, looks like Aryan learnt to play the anthem of 'Fan' for his dad. Well the caption read, "My son did this for me…reluctantly. Wish I could play the guitar…"
Well, Aryan is one talented kid and looks like he has a talent his father would love to borrow.
Also See: Famous celebrity kids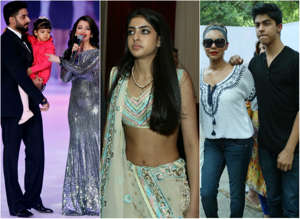 Famous celebrity kids
View this article: