It has been a while since we've seen Ranbir Kapoor dominate the screen. The actor last appeared romantic thriller, 'Roy', where he played a supporting role. However, the Bollywood talent is now gearing up for the release of his forthcoming film, 'Bombay Velvet', opposite Anushka Sharma.
Talking about how he came to be a part of Anurag Kashyap's mammoth directorial venture, even though he has never watched any films by the director, Ranbir says, "The story itself drew me to the script. It's very rare that you get stories of such genres. The world that Anurag was trying to create was one of a kind. Especially for me, since I have done certain type of roles, I wanted to break my image and do something drastic. It might not work, people might not accept me for it. But, it was very important for me as an actor to try and there was nobody better to try it with than Anurag."
"He's somebody who understands this space, the grittiness, the darkness, the intensity. So I'm lucky we had Anurag behind the camera and to really guide this. I have been lucky to work with Imtiaz Ali, Anurag Basu and Ayaan Mukerji – really good directors and I was always burdened by the fact that I'm working with a good director. But where script was concerned, to be honest, I have never watched any of Anurag Kashyap's films, I have heard of his name, but just on the basis of the script, the story and the character, I fell absolutely in love with him and I called Anurag myself to tell him please consider me for this film."
On being quizzed about which actress he shares a good chemistry quotient with onscreen, Ranbir was careful not to reveal any names.
"I think every actress has her own advantages and disadvantages. Nowadays you can't have any weakness with the level of competition. Any shortage in talent is seen and highly criticized, so I think everyone is well prepared, everyone is beautiful, everyone dances well. I have been lucky to have worked with such big stars who have been instrumental in my growth – some newcomers, some established actors. But, I enjoyed working with Anushka, because she is somebody who comes without any trappings of being the star, she is a soldier, she is for the movie, she wants to do a good job and she wants you to do a good job. And I think that kind of grace is very much appreciated."
The actor also had words of praise for his mentor filmmaker Karan Johar who will be seen in a full-fledged role for the first time.
© Provided by Indian Express Ranbir Kapoor: I learnt that you cannot take your audience for granted.
"Karan Johar is such a phenomenon, whatever he has achieved in production, direction, as a talk show host, award show host, fashion designer – coming on set as a character, leaving all this baggage, and approaching his character very honestly is really something because he is playing the main villain in the film. I think of Karan as a mentor, whereas in the film the mentor becomes a tormentor. Thankfully, that hasn't happened in life, he's still my mentor," says the Kapoor lad.
Ranbir Kapoor did admit to being slightly jittery about the film's release, especially since his last lead act, 'Besharam' tanked at the Box Office.
"It's a human feeling but I'm really happy that I have a film like this in my filmography. I don't know if this film will do well or if people will reject this film, after all it's a new genre. But, I know the intention, the hard work and the honesty that went into making this film," he said.
The actor however, takes full blame for 'Besharam'.
"I think I was very cocky and arrogant, with that film. I was coming after 'Rockstar', 'Barfi' and 'Yeh Jawaani Hai Deewani' and I thought it's time to increase my fan base. Lets do a masala film. People know me in cities, but now I want whole of India to know me. I followed a prototype of maybe what Mr. Salman Khan, Mr. Shah Rukh Khan and Mr. Akshay Kumar would do. But that genre is really hard. There's a lot that goes into making Pan India like your film and I failed. I learnt that you cannot take your audience for granted. I don't have that fan following or body of work that people would blindly love me as a hero. I have to work to that point. I'm still warming up to the audience."
Since Anurag Kashyap's 'Bombay Velvet' is set in Bombay of the 60s, Ranbir Kapoor shared his sentiments about the city of dreams.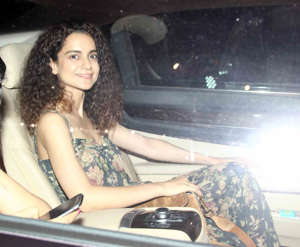 Special screening of Bombay Velvet
"It's the city that gives you opportunities but also the bad world that can give you a lot and take a lot as well. People lose 10 years of their lives trying to do something here sometimes. I've lived here all my life and I don't think I can live anywhere else. I'm also very attached to the word 'Bombay' more than Mumbai, not that I have anything against it. I accept it but there was a nice quality-old world charm to the word 'Bombay'..
And lastly, on his plans after Bombay Velvet: "There are talks of a Kishore Kumar biopic and a Sanjay Dutt biopic, but there's just an idea. Nothing has developed into a script but it will be really interesting to present a celebrated life like Sanjay Dutt or Kisore Kumar onscreen."
See original article: