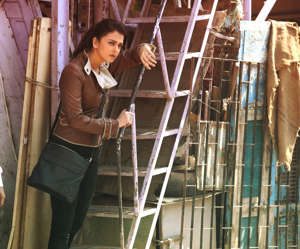 Aishwarya Rai is back with Jazbaa
Mumbai: Actress Aishwarya Rai Bachchan admits she is "nervous" ahead of the release of her comeback Bollywood vehicle 'Jazbaa'.
"I guess I'm feeling nervous now as everyone is looking forward to the film. October is not far away. Not much time is left for release," Aishwarya said at the wrap-up party of the film.
In 'Jazbaa', directed by Sanjay Gupta, Aishwarya plays an advocate, while Irrfan Khan will be seen as a tough policeman. The film's trailer gives a sneak peek into the power-packed performances by the cast members.
Talking of her experience of working in the movie, the former beauty queen said: "We had a good time making 'Jazbaa', and as I have said before, it is wonderful working with Sanjay. I haven't seen the final movie yet… So let's see, we are looking forward to it."
'Jazbaa' is releasing on October 9. (Bollywood Country Report)
More on 'Jazbaa'
Aishwarya Rai: After Jazbaa, you will see me on screen more often
View the original here: