Has any recent Kamal Haasan film released without kicking up a storm? Why then will 'Uttama Villain' be an exception? If it's a Kamal Haasan film, it'll see the light of day only after a measurable token of headline-grabbing controversy. He's a target of uncouth organizations, all the same, a trumpet of Indian cinema.
Kamal finds a thin formidable line between art and imagination, between being and nothingness, between accepting and acting for this tale about a superstar's journey to the deepest corners of his soul. Cinema is a classic case for explaining wonderment. We admire the big guns of the industry, passionately follow our stars' personal and screen lives, and even pick fights with strangers for differences of opinion on who the bigger star is. 'Uttama Villain', unabashedly, takes the center stage in picturing the rise of an actor, and in that, it unapologetically chooses to refrain from sketching a character comprised of all goodness.
To cheese spread the thick emotional content of the actor's life in the film, film within a film is employed. So, we have different yet inherent parallel tracks running in 'Uttama Villain'. This is where our beloved K. Balachander (Margadarsi in the film) enters. He agrees to make a film with Manoranjan (the star) with a heartful of veneration. They give birth to Uttaman, a Theyyam artiste, accompanied by a story.
There are three particular conversations in 'Uttama Villain' that will find a spot in the best scenes of Tamil cinema in 2015.
© Provided by IBNLive
1. Kamal Haasan and Balachander's conversation in the beginning.
2. Kamal and his son's exchange of love in a tender scene involving a cricket ball and a program in screenwriting.
3. Urvashi's confession in the hospital.
These memorable segments are all a part of Manoranjan's off-screen occurrences. The trouble with the period portions is with the VFX. They appear as plastic fruits in a King's fruit bowl. Certainly, animals weren't harmed in the making of this film, only the viewing experience is harmed by poor visuals. Spoon out the VFX and enjoy Uttaman's adventures with Nassar and Pooja Kumar.
Cast members – M. S. Bhaskar, Parvathy, Ashwin, K. Balachander, K. Viswanath, Jayaram, Urvashi, Andrea Jeremiah – have one thing in common. Everybody gets a shining moment in the film. With the little amount of screen time they get, they bewitch you with their performances. Ghibran stands up where he has to with his music and takes a comfortable nap allowing the scene to progress smoothly than crash the poignancy of it. And thankfully, the grandeur is not spoilt in the name of commercialization.
The mentor missed watching his son's film but I'm sure that the son, along with friend and director Ramesh Aravind, has made a film worthy of a eulogy speech.
Know your star: Kamal Haasan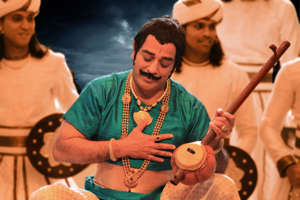 Know your star: Kamal Haasan
More on MSN Entertainment:
Read what critics have to say about 'Gabbar is Back'
Jump to original: